Evidence for action: Making invisible children visible through data
Data is not a word that excites most people but what does is progress and progress is exactly what we see in some of the data on children around the world. Fewer children now die before their fifth birthdays and more girls are in school than ever before. While this is all good news, these averages are hiding truths that are not exciting, but worrying. About 18,000 children still died every day in 2012, mostly of preventable causes. Nearly 31 million girls of primary school age were out of school in 2011. The births of nearly 230 million children under five have never been registered denying them an official identity and access to the services and protections that are theirs by right.
The progress children are experiencing is uneven and far too many are being left behind. These children are becoming 'invisible' and their marginalization is hidden by statistical averages that show overall improvement but mask disparities within countries.
UNICEF's new report – State of the World's Children 2014 in Numbers: Every Child Counts - Revealing disparities, advancing children's rights – exposes some of these striking inequities including in areas where Canada has made significant foreign aid investments and contributed to progress such as in the area of maternal newborn and child health. For example, the world's poorest children are nearly three times less likely than the richest to have a skilled attendant at their birth. In Tanzania, a priority country for Canada's foreign aid and health investments, 56 per cent of the richest children – but only 4 per cent of the poorest ones – are registered at birth.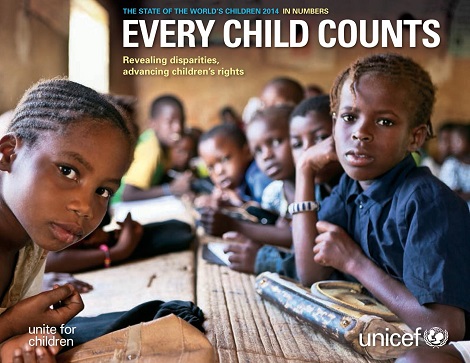 These data trends are also found in wealthy industrialized nations, like Canada. The report indicates that Canada's child mortality rate is higher than in a number of other industrialized nations, with wide variations across the country.
UNICEF has led tremendous gains in data availability on children over the past few decades and our experience has shown us that inclusive data, data that count all children, are one of the most powerful and effective tools we have to ensure all children can enjoy their rights. Data make change possible by providing an evidence base for action, targeted investment to reach the most vulnerable, and accountability towards key benchmarks such as the Convention on the Rights of the Child and the Millennium Development Goals.
The Government of Canada, a global leader in maternal, newborn and child health, recognizes the importance of data for accountability towards achieving children's rights and holding national governments accountable to their commitments to children. It is in this spirit that Prime Minister Harper announced in September at the United Nations that Canada will hold an international event focused on civic registration, a critical form of data. This event is an important opportunity to bring much needed attention to the vital need of ensuring that all children everywhere have an official identity and are therefore counted, but also to commit to reducing the disparities amongst children by focusing on reaching the world's hardest to reach children including those in Canada.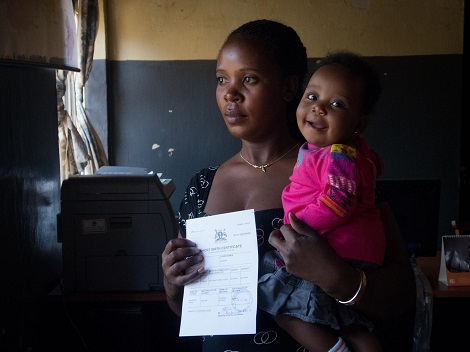 A mother in Uganda displays her child's short birth certificate. At the hospital, birth registration is done using Mobile Vital Records System (Mobile VRS), an innovative technology supported by UNICEF to improve birth registration.
Data on their own may not sound exciting but they contain the power to right the wrong of exclusion and fulfill the promises we made to all children twenty-five years ago in the Convention on the Rights of the Child. By collecting and acting on inclusive data and its analysis, we can make invisible children visible and create a future where all children not only survive but thrive. That truly is exciting.
Categories: