Famous for the wrong reasons: Iraq's first polio victim in 14 years
Moossa, a chubby, 6-month-old boy with gleaming eyes was happily playing with his sisters. Almost overnight he has become famous in his neighbourhood. Since he was diagnosed as Iraq's first case of polio in 14 years, doctors, health workers, vaccinators and health officials have been flowing into Moossa's house.
"I am working so hard to support my family and had no time to think about taking my children to the hospital for vaccinations. I truly regret this now. If only Moossa was vaccinated, he would have been polio free now. I never thought that my child could be paralyzed," his father Abood says with eyes full of sadness.
Since the detection of Moossa's case in Iraq, the Iraqi Ministry of Health supported by UNICEF, WHO and health partners conducted a mop-up of the area where Moossa lives and surrounding neighbourhoods covering more than 8,000 children. The ongoing vaccination campaign launched last Sunday plans to reach 5.6 million children by 10 April.
This is such a challenging task for us as many of the main roads in Iraq remain unsafe. Bombs are still going off frequently but the vaccinators insist to bravely go on with their job and vaccinate as many children as possible.
As we say goodbye to Moossa and his family Abood tells us he is worried, "I ask myself how Moossa will play. Will he able to walk and run?"
Abood is now on mission. Since Moossa got ill Abood is encouraging his neighbours and friends to vaccinate their children. "I'm telling them to avoid doing the same mistake I did."
Join us to protect all children by purchasing polio vaccines.
While thinking of Moossa and his beautiful smiley face, we reflect on how horrific it is for Iraq's children. On top of all the dangers they face on a daily basis, now they are at a risk of catching a virus that we've long forgotten about.
That makes us even more determined to keep going.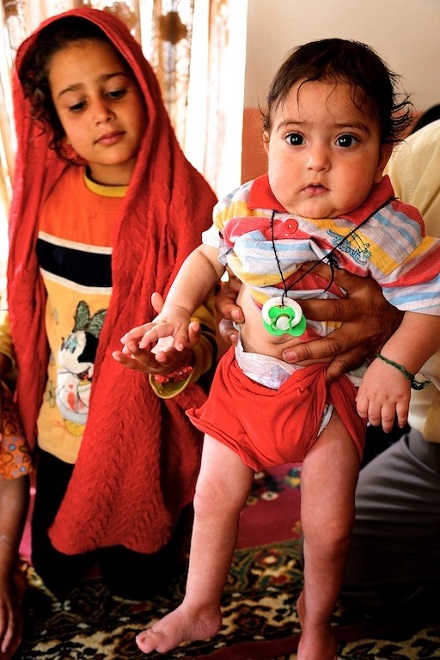 Moossa is Iraq's first case of polio in 14 years. © UNICEF/2014/Ziad Fahmi
Categories:
Geographic Regions: