Father's Day stories: meet five remarkable dads
From the everyday to the extraordinary, these fathers will do anything for their children. They all believe that the greatest gift they can ever give to their children is the chance for a better future. Below are stories of fathers who struggle against the odds to ensure their children survive and thrive. This Father's Day we honour all fathers around the world.
A father set on education: Azharul Islam, Bangladesh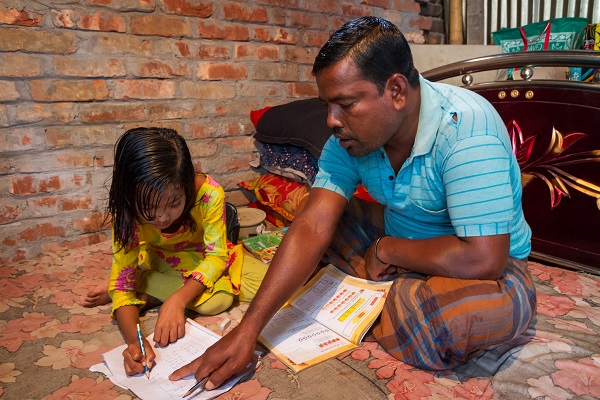 Azharul Islam helping daughter Aduri with her homework © UNICEF/UN07007/Lynch
Azharul Islam, 45, works with his seven-year-old daughter Aduri on her homework in their one room home in Duaripara slum, Mirpur, Dhaka, Bangladesh. Azharul is a rickshaw puller who studied to grade eight and his wife, who studied to grade three, works in a garment factory. They came to Dhaka from the countryside five years ago so they could both work. Their oldest two daughters work in garments, but they want a better life for their two youngest daughters and are focused on keeping them in school at least until they are 18.
Azharul takes his daughters to school each morning on his rickshaw. "I am very concerned about my daughters," he says. "It is my responsibility to keep them safe in this environment." Even so, he does not take them up to the front of the school. "It would be an embarrassment," he says. "People would know they come from a poor family."
He works in the morning when his daughters are in school and then returns home for a few hours in the afternoon to eat lunch, do the shopping, supervise the girls in their studies and make sure they are taken care of. Later in the afternoon, ideally after his wife returns home, he goes back out to work, often pulling his rickshaw until midnight to make enough money for his family.
Father's Day Gift Idea: Girls' Education »
A father and his miracle baby: Abo Aisha, Yemen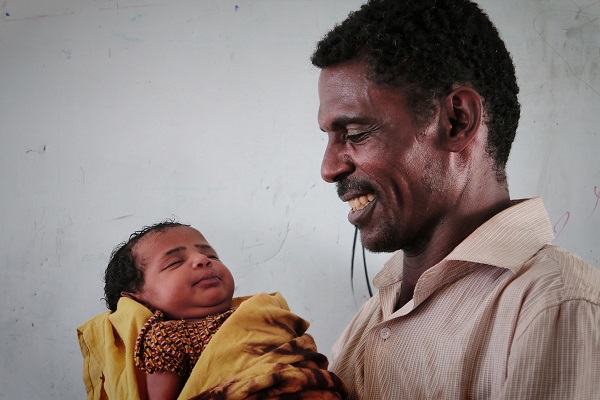 Happy father Abo Aisha holds his newborn daughter. © UNICEF/UNI187337/Abdulbaki
"Eight weeks ago when the rocket shelling was heavy, I had to rescue my family from Malla. We fled in a neighbour's car until we reached to a school where we took shelter. My wife, who was eight months pregnant, went into labour and thank God she delivered safely. Every time I look at baby Aisha in the eyes I say, 'may your coming bring peace'," said Abo Aisha, who fled his home in Malla and is currently an Internally Displaced Person in Al-Mansourah School.
Yemen has witnessed intensive fighting and bombing since the conflict escalated in March 2015, which has caused food and water shortages, impacted personal security, and cut off access to health care for many people across the country.
Father's Day Gift Idea: Baby Bundle »
A father and his early arrival: Phillip Baawuo, Ghana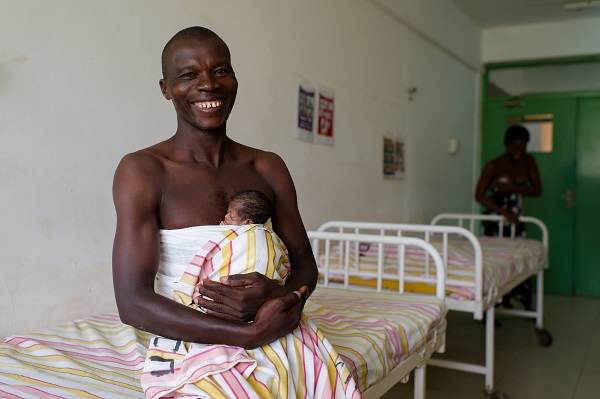 Philip Baawuo practices kangaroo care with his prematurely born son. © UNICEF/UNI193576/Quarmyne
Father's also have a role to play in caring for premature babies. Phillip Baawuo is pictured with his as yet unnamed son (traditionally children are not named until their seventh day) at the Bolgatanga Regional Hospital in the Upper East region of Ghana. Phillip and his wife, Gloria, are using kangaroo mothercare—or in this case, fathercare—to keep their son warm without the need for an incubator. This simple technique has been responsible for greatly improving the survival rate of low-birthweight babies.
With support from UNICEF, the NICU was established at the Bolgatanga Regional Hospital in 2013, and within the first year had admitted an estimated 746 babies, and continues to help babies survive today.
Father's Day Gift Idea: Blankets for Babies »
Refugee father: Khalid Raslan, Germany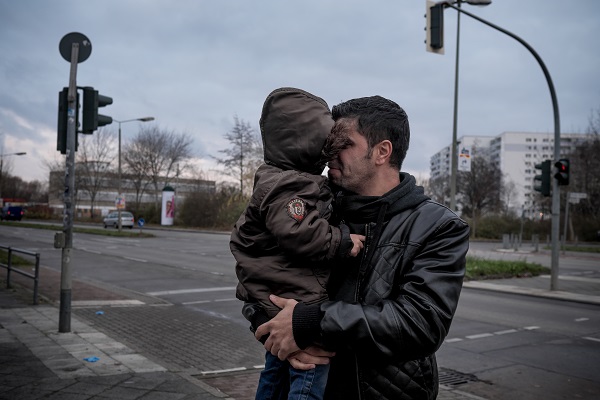 Khalid Raslan, 33, holds his youngest son Karam, 4, outside an emergency shelter at the Jane Adams School on the southern edge of Berlin. © UNICEF/UN05638/Gilbertson VII Photo
The Raslan family, including Khalid Raslan, his wife Amira Raslan, 24, twins Jannat and Amr, 7, and Karam, 4, are refugees from the destroyed city of Homs in Syria. They arrived in Germany in December, 2015, after making the weeklong journey from Turkey by land and sea to apply for asylum in Germany.
To ease their children's fears, Khalid and his wife made the journey like a family trip by making everything special and taking lots of family photos. The scariest part for the family was the water crossing.
"I gathered all of the power I had to protect them," he said, pulling his hands from as far away from his body as possible towards his heart. "But still, I wouldn't do it again. It was traumatizing. We saw that boats capsized, and that people were drowning. Four kids died in another boat, [which was] part of the larger group we were crossing with."
For the future Khalid says, "I want my kids to be successful. I want them to do something they're passionate about, because they'll be good at that. We're exploring what those passions are now with them."
Father's Day Gift Idea: Urgent Aid for Syria »
A dad against the elements: Antonio Moceituba, Fiji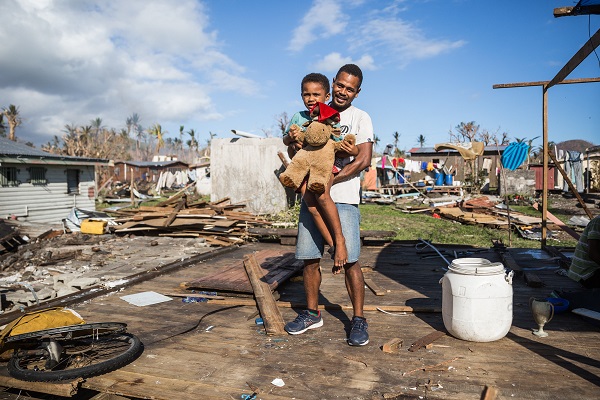 Antonio Moceituba and his five-year-old daughter, Losalini, on the wreakage of their home. © UNICEF/UN013420/Sokhin
Antonio Moceituba, 23, is pictured holding his five-year-old daughter Losalini, while standing on the wreckage of their home that was destroyed by Cyclone Winston when it hit Fiji on February 20, 2016.
"We were shocked when we saw our home blown away, but I am sure that we will recover from it. Most important, we are alive and I will do everything I can to build a new house for my family", says Antonio.
The Southern part of Taveuni Island of Fiji is among the areas most affected by Cyclone Winston. Some villages were completely destroyed and people were left without food for about a week, as access to the island was cut off. After the runway and roads were cleared, people in affected villages started to receive food rations, but most of them are still in shock after losing everything they had. Kanacea village in Vuna was greatly affected by the cyclone. Most of the homes were completely destroyed or badly damaged. Many Kanacea residents now live in an evacuation centre or sleep under the open sky.
Father's Day Gift Idea: Emergency Essentials Kit »
This Father's Day help fathers and their children everywhere
There is one thing that all fathers want – for their families to be healthy and safe. Honour father's around the world by purchasing a UNICEF Survival Gift and give Father's Day gifts that will help children everywhere survive and thrive.
Categories: