Field Diary: Niger's children under siege from the worsening nutrition crisis
By Chris Tidey
MARADI, Niger, 11 April 2012 – Walking through the door into the intensive care ward, I am struck by sensory overload – children's cries come seemingly from every direction; medical staff buzzing around me, inserting a feeding tube here, testing for malaria there; and an oppressive 40 degree Celsius heat from which there is no escape.
This is the Intensive Nutritional Rehabilitation Centre (CRENI) in the village of Madarounfa, south-eastern Niger, a hospital where children under age 5 are treated for severe acute malnutrition with complicating medical conditions.
I have been here before, but somehow it has been transformed. Apart from the building structure itself and the familiar faces of the doctors and nurses, it is a different place entirely, almost unrecognizable.
It is a microcosm of the worsening crisis across the Sahel region of Africa, where drought, poor harvests and rising food prices have left an estimated 1 million children at risk of death from malnutrition.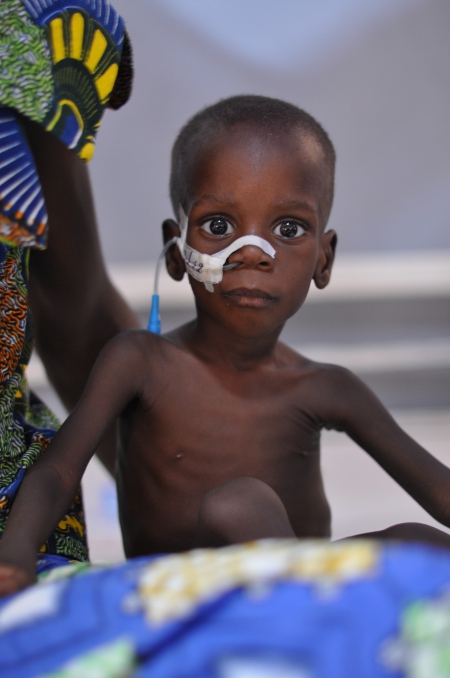 I meet Aboubakar Oumar, 13 months old, who is being treated for severe acute malnutrition, a diarrheal infection and oral lesions. When he was admitted to the medical centre last month, he weighed 5.3 kg. He has since gained 0.5 kg through a regime of therapeutic milk provided by UNICEF.
"Aboubakar is sick because we don't have enough food to eat in our village. I had to pay 1,000 francs to bring him here on motorbike from Nigeria," says his mother, Hassia. Aboubakar is the youngest of Hassia's four children, two of whom have died.
According to UN experts, successive droughts in 2005, 2010 and this year, combined with increasing insecurity in the region, are pushing families to the brink. Some 15 million people are directly affected.
In Niger, more than 5 million people are facing food shortages – approximately 35 per cent of the country's entire population. UNICEF and its partners estimate that nearly 394,000 children in Niger will need to be treated for severe acute malnutrition this year.
UNICEF is expanding the capacity of therapeutic feeding centres to treat severe acute malnutrition.
The Consolidated Appeal launched by humanitarian actors in Niger requests US$229 million to respond to this emergency. UNICEF and its partners are calling on the international community to mobilize all means necessary to make sure that this threat to the lives of so many children is averted.
It is not too late, but we must act now.
Meet Chris Tidey
Chris Tidey reports on UNICEF's work for children in emergencies. His previous assignments have taken him to Haiti, Pakistan, Libya and Chad. You can follow Chris on Twitter for more updates from the field (@UNICEFChris).
Categories:
Geographic Regions: