Fight Pneumonia. Save a child. November 12.
Today is World Pneumonia Day.
Pneumonia is the number one killer of children under five. It claims a child's life every 20 seconds.
Fatalities are concentrated in the poorest regions of the world, among the most disadvantaged and most vulnerable children. Over 98% of pneumonia deaths occur in developing countries.
Poverty-related factors play a critical role in this imbalance. Undernutrition and lack of access to health care, safe water and adequate sanitation can lower children's natural defenses and make them more susceptible to infection.
Pneumonia is entirely preventable.
It is one of the most solvable global health challenges we face. We possess the means and the know-how to protect children from contraction, and to treat those already sick.
For instance, exclusive breastfeeding during the first 6 months of life results in a 15-23% reduction in pneumonia infections. Vaccines – like Pneumococcal – result in a 49% decrease.
Antibiotics are the most effective and inexpensive form of treatment, though studies suggest only 54% of children with pneumonia in developing countries actually receive antibiotics to help fight the infection.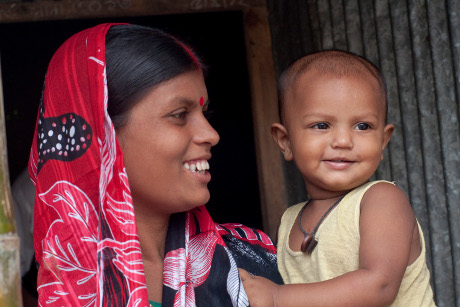 15 month old Rahul was diagnosed and treated for pneumonia by health workers trained under the UNICEF supported program Integrated Maternal, Neonatal and Child Survival interventions, which saved his life. ©UNICEF/BANA2012-00692/Khan
More than 1 million children's lives can be saved every year with widespread use of vaccines and improved access to antibiotics.
No child should die of a preventable cause. Together, we can bring the number of daily preventable child deaths from 19,000 to zero.
Take action today.
Follow the World Pneumonia Day social media campaign!
Tell your friends, family and colleagues about the leading cause of preventable child deaths. Visit our ACT 2012 page to get involved on Facebook and Twitter.
Give $10 to provide a child with a lifetime of protection.
Make a donation to UNICEF Canada and ask your friends and family to do the same.
Watch the Video.
Categories: