Fortifying Communities Through Collective Gardening
Kientego Sierotta is a member of a collective of 54 women in Burkina Faso who are working together to build a sustainable community garden. Each member is responsible for tending one hectare of land.
With support from UNICEF, the collective is endeavouring to produce fruit and vegetables year-round as a means of cultivating nutrition security in their community.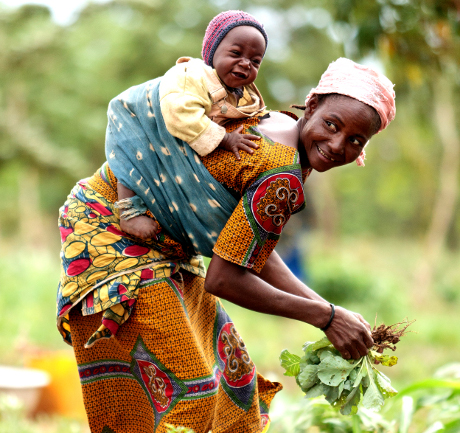 Kientego turns to smile at her laughing baby as she tends her area of the community garden. © UNICEF/NYHQ2012-0824/Asselin
The project is already seeing results. Mothers report that their children are healthier, more energetic, and fall sick less often. The collective is changing not only diets, but the strength and resilience of their community.
Innovation Is:
The cultivation, identification and harnessing of great ideas. UNICEF does just that. We take the best of the best, nurture their development, and transform them into life-saving solutions that benefit the world's most vulnerable children in the world' most remote and hard-to-reach places.
More in this Blog Series
Texting the Way to Better Child Health
A Sustainable Solution in Mogadishu
Mobile Phone Technology Helps Children Map the Change They Need
Categories:
Geographic Regions: