On the Ground in the Za'atari Refugee Camp
By Hala Abu Khatwa
UNICEF Communications Specialist
Za'atari Camp in Jordan, August 2012: Umm Ghassan is a 60-year-old Syrian grandmother, but the suffering she and her family are going through has left deep imprints on her face and added decades to her age. When I met her at Za'atari camp, she was sitting inside her tent hugging her two-year-old grandchild. She was waiting for the child's mother and siblings, who had gone to fetch the water necessary to meet the family's drinking and washing needs.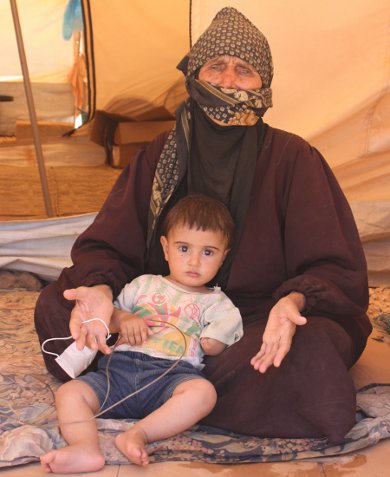 ©UNICEF/2012/Abu Khatwa
Umm Ghassan, originally from Daraa in Syria, takes care of her youngest grandchild while his mother and siblings fetch water.
Umm Ghassan surprised me with her question: "When will we go back to our homeland? I want to go back to Tafas; a morsel is tasteless away from Tafas," she added. The aging grandmother has nine sons and tens of grandchildren, most of whom joined her when she left their hometown of Tafas in Daraa Governorate.

Umm Ghassan misses the tomatoes, for which the green fields of her hometown are famous. "I want to eat Tafas tomatoes, Tafas vegetables" she said, "the dust here is more than what we can bear. We never stop washing. Praise be to God, we have water, but the conditions here are difficult. The heat and dust make our children sick."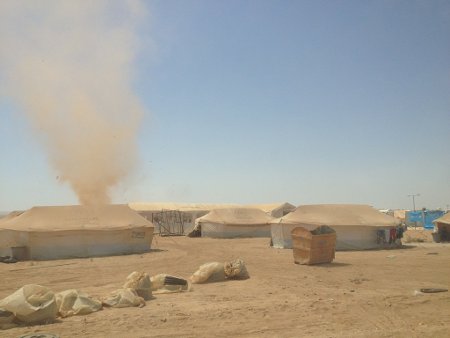 © UNICEF/2012/Abu Khatwa
Frequent sand storms plague the Syrian refugee children and families living at Za'atari camp. Another issue is the heat and lack of natural shade.
Bombing and fear drove Umm Ghassan, as well as thousands of Syrian families to flee their homes to Syria's neighboring countries. Displaced Syrians registered in Jordan alone count more than 40,000. Of these, more than 6,000 people live at Za'atari camp, built to accommodate in excess of 100,000 refugees.

UNICEF, together with other UN agencies and partners, provides humanitarian assistance to meet the basic needs of these refugees. UNICEF leads efforts aimed at providing drinking water and supporting the site's water, sanitation and hygiene infrastructure, including the installation of permanent latrines, bathing facilities and washing basins, as well as mobile units prepared for these purposes. UNICEF strives to assure that the per capita share of water is at least 50 liters per day.

The harsh desert conditions impose themselves on the camp's inhabitants. Hot, dusty winds gust at times. UNICEF and its partners are working hard to meet these challenges and try to alleviate their consequences. Four hundred Ziirs (large traditional clay jars used to cool water) were distributed and more procured, as well as water points shaded and fenced. With Jordan already suffering from shortages in its water resources, UNICEF and its partners, in coordination with the Jordanian Ministry of Water and Irrigation, are currently assessing digging a special well for Za'atari camp to ensure that the increasing numbers of refugees access their water needs.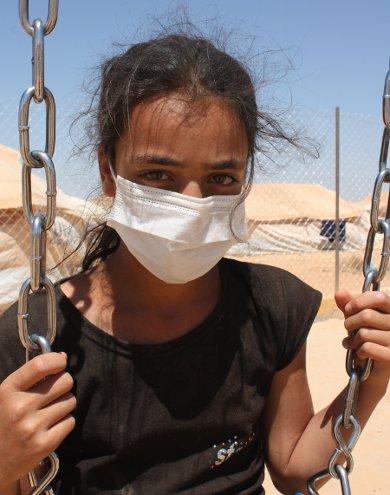 ©UNICEF/2012/Abu Khatwa
Maha, from Homs, came to Za'atari camp with her parents and little sister. They walked for almost two days. Maha received a mask at the Child-Friendly School to protect her from the frequent sand storms at Za'atari camp.
Eleven-year-old Maha escorts her three-year-old sister to one of the mobile latrines, installed by UNICEF on the same day on which Maha arrived at the camp. Maha looked tired; the trip with her parents and uncles from Homs took two days, of which they spent hours walking on foot. Trying to defeat her tears, Maha told me: "I am afraid of everything. I am afraid of the bombing, afraid of the snipers."

Today, Maha has been at Za'atari for more than one week. The features of her face seem to be more relaxed despite her suffering from the dust. Every day, she goes to the 10 tents designated by UNICEF, in partnership with Save the Children International, as child-friendly spaces, where psychosocial support, recreational activities and informal education services are provided.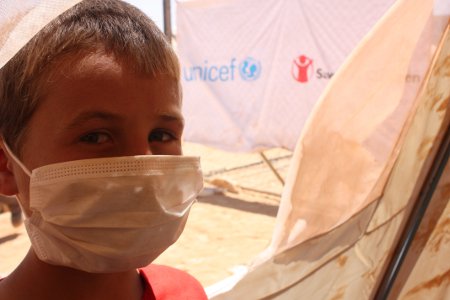 © UNICEF/2012/Abu Khatwa
Malek (12), from Daraa, wears a mask to protect him from the frequent sand storms
Twelve-year-old Malek also takes his siblings on a daily basis to the child friendly spaces which he calls "the school." Soon Malek and the other Syrian children living in refugees centers in Jordan will be attending Jordanian formal schools when the new scholastic year starts in September. The Ministry of Education will accept them in the schools surrounding the camp, and UNICEF with its partners will cover all the expenses and ensure all children in Za'atri have access to education.

Malek says he will still miss his friends and schoolmates in Deraa. But now he looks forward to the start of his Sixth Grade classes with his eyes pitched on a better future for himself and for his nine siblings.
Funding is urgently required to respond the needs of Syrian refugees fleeing the crisis. You can help.
In the News
[The Toronto Star] Syria's refugee children cope with trauma of war
[CBC] UNICEF struggles to help Syrian child refugees in Lebanon
[Toronto Star] Syria: Aid agency makes urgent plea for help for families fleeing violence
[CBC] Canada open to expanding Syrian humanitarian aid
More like this
Syria's Refugee Children Cope with Trauma of War
A Personal Reflection on the Crisis in Syria
Syrian Volunteers Rise to the Occasion
Share
Categories:
Geographic Regions: