Guarding Against Maternal & Neonatal Tetanus in South Sudan
Kuajok feels like the middle of nowhere.
Our journey began with an hour and half flight from South Sudan's capital city Juba to the town of Aweil. From Aweil we drove nearly five hours on dusty potholed roads. At times our driver would slow down to 10 kilometers an hour to maneuver the massive craters.
There is one main unpaved road where a few shopkeepers sell whatever items happen to make it to Kuajok. Vehicles, motorbikes, people and goats move through town surrounded by small grass roofed huts.
This time of year the town is scorching hot, the air is dry and nothing moves quickly.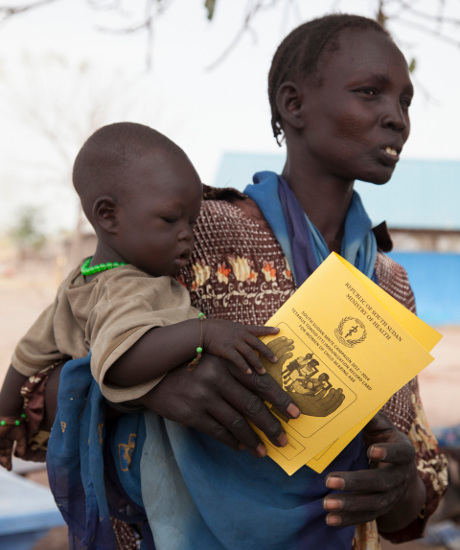 Ajok, holding nine-month-old Mauout, is attending a UNICEF tetanus vaccination drive. She has given birth seven times without medical assistance of any kind.
During our second afternoon in Kuajok I met a woman named Ajok Madut.
Ajok was with two of her three children – nine-month-old Mauout and three year-old Acol.
Ajok told me she's given birth seven times, but only three of her children are alive. Each time Ajok gave birth she was at home – a small hut – by herself.
She explained that before giving birth she would lay a blanket down on the floor to lie on during the delivery. Once the baby arrived she cut the umbilical cord herself with a razor blade.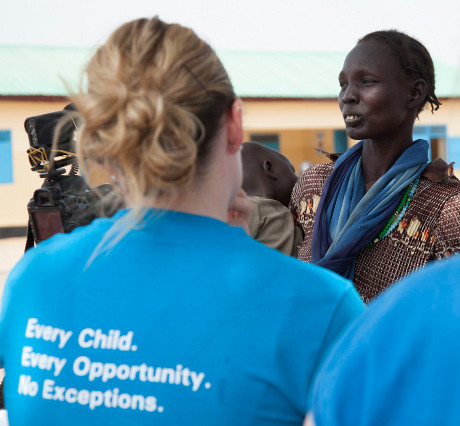 Melanie Sharpe, wearing a UNICEF Canada t-shirt, speaks with Ajok.
South Sudan has the highest maternal death rate in the world.
For every 100,000 births more than 2,000 women will die. This means women have about a 1 in 7 chance of dying from pregnancy related complications in their lifetime.
So Ajok is one of the lucky mothers - statistically, she should be dead by now.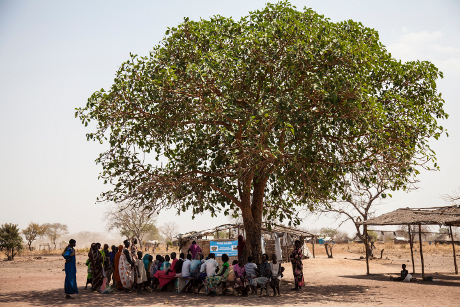 I met Ajok under a huge tree behind the Kuajok primary health care unit where UNICEF has set up one of its tetanus vaccination points. Right now UNICEF is in the middle of a seven-day vaccination campaign to protect women from maternal and neonatal tetanus across the county.
People of all ages can get tetanus, but it's particularly serious for newborn babies and for women who have no choice but to give birth in unclean environments – women like Ajok.
The effects are devastating – within days tetanus spreads through a baby's body, causing convulsions and difficulty breathing. In places with limited health care like South Sudan - 95 per cent of babies will die.
But UNICEF through Kiwanis International's Eliminate Project is working to eliminate the disease around the world by 2015.
Reaching women like Ajok in remote communities is absolutely vital to achieving this goal.
Survival Gifts
Mother and Baby Tetanus Pack
This gift of 250 tetanus vaccines will immunize mothers, who pass immunity to their babies, protecting them against the devastating effects of the disease that kills one baby every nine minutes. When you purchase this gift, it will be matched through the Kiwanis Eliminate Project, doubling the impact.
Categories:
Geographic Regions: