Haiti: Diagnosing malnutrition
It is to cry.
Pierre sat on his hospital crib. Thin little arms; skin infection on his head; malnourished. And he was squawking – I don't know how else to describe his sad, wailing voice. He is almost two – the same age as my granddaughter. Usually on trips like this I share photos of my family – I couldn't bring myself to show Pierre's mother a picture of our happy, smiling beloved little girl. She loved her son like we love her – but their prospects in life are so very different.
I wanted to pick up Pierre and hold him, but I didn't want to upset him more than he already was, so I just took his hand and he grasped my fingers and clung to them, hard.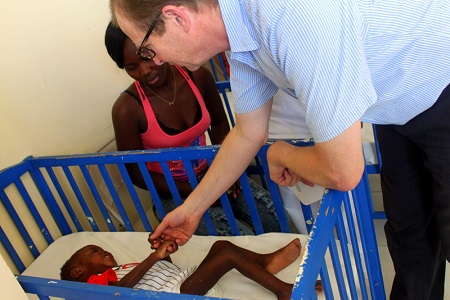 Haiti defies reason. A lush tropical island racked with poverty and hunger with community leaders as strong and committed as any I've ever met anywhere. I was with one of those remarkable heroes today, Dr. Margaret Malet, whose organization runs FONDEFH - the clinic caring for Pierre.
This clean, bustling well-organized place for mothers and children is in the middle of one of Port-au-Prince's rougher neighbourhoods. Every day women come here and with their children to the courtyard in front of a little house which is home to the clinic.
The clinic starts with pregnant women and cares for children up to seven years old. It provides nutrition care – both in-patient and out-patient – immunization programs, family planning education and outreach, awareness on domestic violence with a psychologist and social worker and, I must say, all housed in what may be the cleanest clinic I have ever visited.
I mentioned that to Dr. Malet, and both she and our Nutrition Officer, Jean Max Beauliere, laughed. "Yes, that's something visitors always say."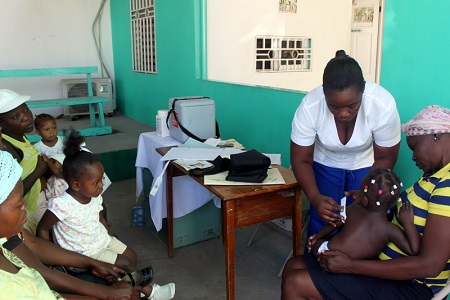 Dr. Malet is an engaging and energetic Haitian woman who has turned FONDEFH into one of Haiti's largest NGOs, with 80 clinics and health posts around the country. "In this clinic about 30% of the children have some degree of malnutrition" she explained as, behind us, a nurse weighed, measured and used a MUAC bracelet to assess a child's health. "And when we test pregnant women for HIV the rate here is about 2% - much better than a few years ago. Since we know how to prevent the transmission of the virus to babies we can be sure they won't be positive, too."
But she is worried. As memories of the earthquake fade, international aid is decreasing and the Haitian government is not able to make their contribution. This frustrates Cornelia, our Communication Specialist. "The investments made here have made a difference. What better way to build a healthy country than to help Haitian organizations like this? The investments over the past five years have had good results and we're picking up steam. It is just foolish if the funding stops now. We should be building on this positive momentum."
Max shows me the therapeutic milk and the plumpy nut we are giving to children like Pierre. "We've had funds for this up to now. But they are running out. We're leading the nutrition sector here in Haiti but we can't get enough for basic nutritional supplements. What are we supposed to do?"
Indeed, what are we to do, if we cannot get the funds for a well organized well functioning place like this?
I asked Dr. Malet why she does this. "You're a doctor, you could be making lot of money in a private clinic for the wealthy?"
She laughed again. "Yes, that's true, but this is where I should be working. When I was in Medical School I knew this was what I wanted to do – help the people in the bidonvilles have access to good health care. Early in my career I started this by working with UNICEF – maybe this is my calling."
As she continued to show me around the clinic, which seemed to go on and on – clearly the house is a lot bigger than it looks from the street – I grew upset. Not at her and her work, because each new thing I saw – caring and thoughtful staff, strong programs promoting in breast-feeding, perceptive nurses ("if that infant is malnourished at such a young age then her mother can't be breastfeeding him" – and she wasn't) a lab testing for STDs – was as good I've ever seen in a community clinic.
No, what upset me was the overall diagnosis for these patients.
All these children have the same disorder. They're suffering from poverty. They have the symptoms – low birth weight, stunting, skin disease. Sure, we can treat them, but we need to tackle poverty too. I don't just mean "we" as in UNICEF but "we" as in all of us. Everyone. There's enough money and resources in the world to address children's needs here and around the world – so why don't we do it? How can it be that this clinic risks running out of life-saving therapeutic food just because a bit more money won't make its way here?
But I cannot succumb to despair, not when I know people like Dr. Malet, Jean Max and Cornelia are all on our side.
"We must do what we can," said Dr. Malet. "Even if it feels like we are pushing a stone up a hill, we must start somewhere and do what we can."
She's right. Because if we wait and wait for others to do something, well, who will? These women and children waiting patiently in front of the clinic can't also wait for the political and economic issues to be solved. They need some help now. And for that, here at FONDEFH, they've come to the right place.
Read more from David Morley:
Support our work:
Provide the resources and funds needed during an emergency here.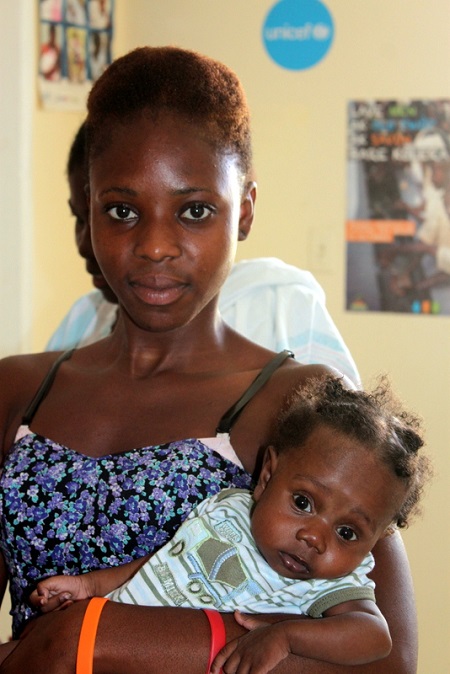 Categories:
Geographic Regions: