Haiti: Kangaroo Care
Being a newborn is dangerous. Those first hours, that first day, the first month of life is when nearly 3 million babies die each year. At Haiti's main teaching hospital in the heart of Port-au-Prince we are helping more children make it through those dangerous times.
The hospital is crowded and chaotic – not unlike the city itself – but the Neonatal Intensive Care Unit is an oasis of calm and caring. We've helped provide the unit with high-tech devices and in the small room a tiny underweight newborn lies in an incubator and another five infants, slightly bigger, are wrapped in blankets in warm bassinets.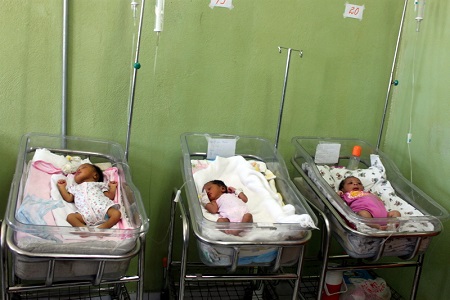 These tools are important, but the Unit's director gets really excited when she tells me about the low-cost, low-tech solution which has saved countless lives: Kangaroo Care.
"All the support UNICEF has given us since the earthquake has made a big difference," she said. "These machines, these beds – before the mothers just had mats on the floor – this is much better. But Kangaroo Care – that has made a huge difference."
And what is Kangaroo Care? Well, it's just what it sounds like. Just like a baby joey in its kangaroo mother's pouch, it means skin-to-skin contact between a premature baby and its mother – and it saves lives.
"UNICEF sent some of us to Cameroon to learn," the director told me. "They do so much Kangaroo Care there, and it was so important to see it happening in a hospital like ours. We also went on a course to Colombia – they're the best at it in Latin America. It is wonderful what we've learned. Now, when the electricity goes out here in the hospital it doesn't matter as much because the mother's body keeps the baby warm. Before we learned this, fragile babies used to die because they would get cold." Not only that, the immediate skin-to-skin bonding increases the attachment and lowers the risk that when things get tough (as they all too often do for Haiti's poorest families) there is less chance of abandonment.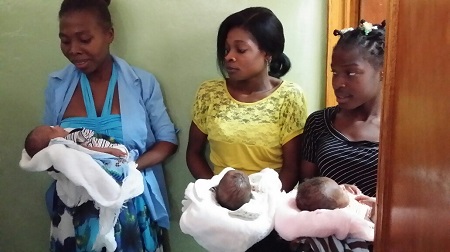 These triplets are healthy and kangaroo care made it possible. It's a wise investment to keep newborns alive.
Since this hospital is the main teaching hospital for the country, nurses and doctors in training are learning about Kangaroo Care, and the Ministry of Health has plans for this method to be expanded to the main hospitals and then local clinics and health posts throughout the country. And once they are discharged, the mothers and babies come back for regular follow up, and to get the support they need to continue breastfeeding their newborn.
It doesn't have to be only the mothers, of course. In the ward a baby is lying on her grandmother's skin, since her mother has been ill, and a woman who gave birth to triplets is there with her mother and sister, each of whom helps with the Kangaroo Care. And I talk with one man there – his wife died giving birth to their son, Ralph, so the father did the kangaroo care and Ralph is growing well.
Those first days of life are hard ones, that's for sure, but this simple technique seems to be making a remarkable life-saving difference for these tiny infants of Haiti.
Read more from David Morley:
Support our work:
Provide the resources and funds needed during an emergency here.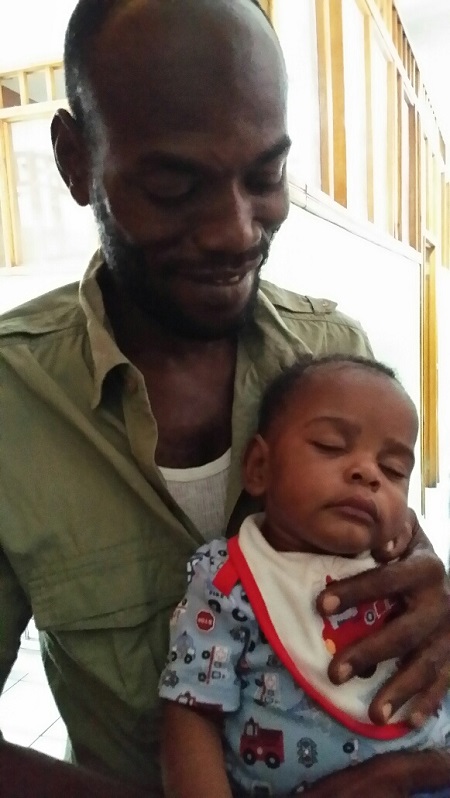 Heartwarming to see kangaroo care keeping newborns alive. UNICEF helped this father use kangeroo care with his son Ralph when when wife died.
Categories:
Geographic Regions: