[HAIYAN Survivors] Chyrine: A Reluctant Hero
By Gay Samson
"A hero is an ordinary individual who finds the strength to persevere and endure in spite of overwhelming obstacles." - Christopher Reeve
Chyrine C. Medino, 29, a teacher at Quinapondan Central Elementary School, Quinapondan, Eastern Samar, is embarrassed by all the attention.
"I'm not a hero," she says. The children needed to focus on learning "so they could deal better with the trauma from their horrible experience during the typhoon."
"They needed to see me – their teacher – as an example. I had to set aside my own problems so I could be strong for them."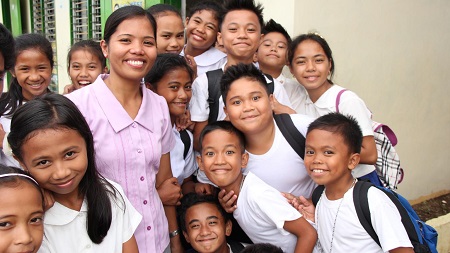 SUPER TYPHOON YOLANDA
Chyrine was in Quinapondan with her youngest son when Typhoon Haiyan, locally known as Yolanda, battered central Philippines in the early morning of November 8, 2013. Her husband, Allan, was on duty at the DYVL radio station in Tacloban City, while her eldest son was with her husband's parents in Dagami, Leyte.
"The last text message I received from my husband was around 4 a.m. on November 8, asking me if the wind was already strong in our area."
When Typhoon Yolanda finally hit, Chyrine's house did not stand a chance. The 235kph winds instantly ripped off the roof from its hinges. Sheets of heavy rain poured into her home soaking everything..
Chyrine and her two-year-old boy, Lance, had been joined earlier by their neighbors, thinking her house would survive the onslaught.
The water rose so fast that it was at shoulder level (within minutes) when Chyrine, her son and her neighbors left her house to seek shelter in a nearby building. They braved the gale force wind and downpour to swim in neck deep water towards shelter.
The group reached a wall that provided some protection from the assault of Yolanda, choosing to stay there to wait out the typhoon winds in relative safety.
"I was holding my baby close to me because we were drenched. I was trying to shield him from the wind and rain. When I looked at his face I got scared because his lips were very pale and he wasn't making any sound. He was just looking at me."
Chyrine thought they were going to die, and was praying the whole time. She couldn't believe how the weather was completely fine the day before. This was a storm they had never encountered before.
When the typhoon finally subsided, they slowly made their way into the building.
KEEPING IT TOGETHER
Three days after Yolanda, Chyrine was back in school with the rest of the faculty trying to assess the damage that the typhoon had left in its wake. They had to start cleaning the piles of debris on the school grounds. Chyrine was thinking about her husband who she had not heard from in three days.
The school principal asked for the community's help in cleaning and restoring the school, and people started doing just that..
After five days, amid reports that a storm surge five meters high had swept over Tacloban, Chyrine was finally able to travel to the city to look for her husband and son. She borrowed money from a friend and hired a motorcycle to take her there.
She was advised not to go to the city centre because of all the debris.. so she went directly to her husband's workplace where she met his boss.
"When I asked him about my husband, he didn't say anything. I started crying because I knew then my husband was gone."
RAY OF HOPE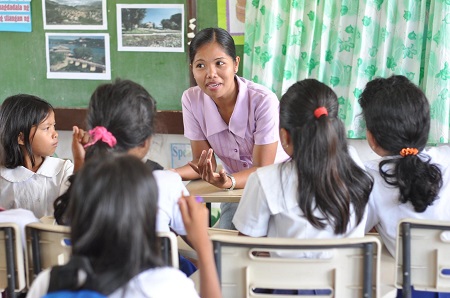 By the third week, Chyrine and the rest of the faculty started informal classes with some of the pupils. It was their way of restoring some normalcy for the pupils and teachers.
A UNICEF team on their way back to Tacloban from Guiuan, including Ted Chaiban, Director of Emergency Programmes and Angela Kearney, then UNICEF Representative in Indonesia, were surprised to see the school teeming with children.
The team dropped by the school to investigate, andChyrine's was the first classroom they saw.
"Ma'am Angela (Kearney) asked me what I was doing, if I was already holding classes. I said yes. Then she asked me how my life was and I ended up tearfully telling her my story. She hugged me, told me to be strong, and she promised to send teaching materials ," Chyrine related.
Within the week, UNICEF sent materials including books and school supplies for the children and instructional materials for the teachers.
They also sent two tents and furniture to be used as temporary classrooms.An engineer came to assess what building materials were still needed and to see if the conference hall could be repaired.
More pupils reported to class as more classrooms were repaired.
By November 25, 2013 all classes had resumed.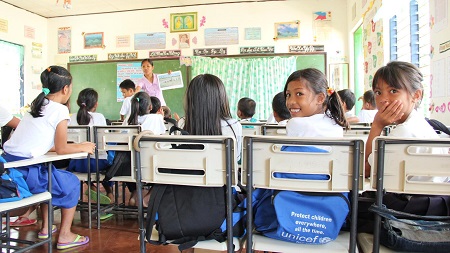 STRENGTH WITHIN
After eight months, the school is almost fully functional.
"I think the children and the teachers are moving on with their lives and I believe it is largely because of all the help that we got from UNICEF and the different international organizations that came to help us," Chyrine says. She and the people of Quinapondan will forever be grateful for all the help given to them by the international community.
Chyrine says that teaching right after the disaster helped her cope and achieve some balance in her life. "By teaching my pupils and interacting with them on a daily basis, it really helped me to focus on their problems instead of mine."
Her husband's memory keeps her inspired. "I believe he is watching over me and our boys and I know that he wants us to be happy."
Chyrine says her children and her pupils also inspire her everyday. "I know they believe in me. As they continue with their learning and in their own lives, I hope they won't forget me," Chyrine says with a smile.
Read more stories of survival:
Learn more about how we provide support to heroes like Chyrine when disaster strikes.
Categories:
Geographic Regions: