[HAIYAN Survivors] Gale: Coming Home
By Pam Pagunsan
Almost a year after Typhoon Haiyan (local name Yolanda) hit the town of Quinapondan, Eastern Samar, 12 year old Gale Paulette Macasa finally feels that her life is getting back to normal.
UNICEF met Gale back in April just a few months after the storm. She recounted the storm taking everything except their lives and the clothes on their backs. After staying in an evacuation centre, Gale's family moved back to where their house once stood and lived in a tent. They had lost all their belongings but were thankful to be alive.
Gale resumed her studies in Quinapondan Central Elementary School just a few weeks after the typhoon. "Our school principal and teachers had all worked so hard so that we could go back to school. When I saw my classmates again, I found myself believing our normal life was coming back." Immediately after the typhoon, UNICEF provided affected schools with temporary learning tents, school and recreational materials to help children gain a sense of normalcy.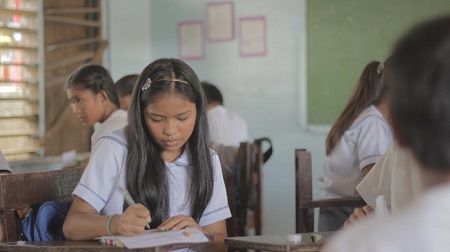 Gale is now in seventh grade in Quinapondan National High School where English is her favourite subject. She dreams of travelling the world as a flight attendant.
Gale's parents, both teachers, are working hard to be able to provide their two daughters with what they need to succeed in school and in life. Living in a tent was difficult but they slowly rebuilt a makeshift house using scraps of iron sheets and wood.
The family of four all sleep in one room with one bunk bed. The two daughters sleep topside while their parents take the lower bed. All their belongings are packed neatly on the sides with a special corner reserved for their daughters' graduation pictures, trophies and medals.
Today, the Macasa family is building a new house made from hollow blocks and cement. "We're slowly building a new house. It's not easy but we will get there," said Gale's mother Cecille Macasa.
"We already have a new house where we feel comfortable and our things are placed in order. Not like before where they were all just piled together. Now we have a dining room and a sala (living room)." Gale adds.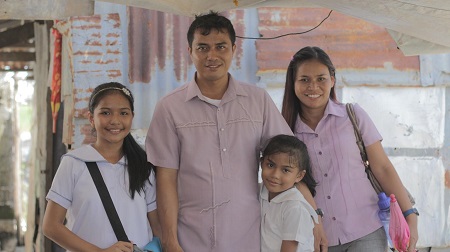 Education in Emergencies
UNICEF supports continuing education in Typhoon Haiyan affected areas with repairs for damaged classrooms, provision of supplies, teacher training on Education in Emergencies, psychosocial support and child-centered learning practices.
UNICEF is also working with partners to promote school-based disaster risk reduction for and with children, such as hazard and vulnerability mapping, school safety committees and school disaster planning linked to barangay early warning systems.
To date, at least 500,800 pre-school and school-aged children (3 to 17 years) have benefited from the distribution of learning materials and supplies to schools. Over 23,787 chairs and tables, 165,850 learning materials and 1,148 bookcases have been distributed to schools in Regions VI and VIII and at least 213,200 children can access education at the 2,132 UNICEF Temporary Learning Spaces (TLSs).
Read more stories of survival:
Learn more about how your support helps childen like Gale in an emergency.
Categories:
Geographic Regions: