[HAIYAN Survivors] Gerald: Fighting for Survival
By Karen Gray
Our nine-year-old host, Gerald P Alcaraz, laughs as he throws a paper aeroplane across the playground. It's bright and early at Anibong Elementary School in Leyte as girls and boys happily arrive to begin their classes. Most of them, including Gerald, are proudly wearing bright blue UNICEF backpacks.
Gerald's face lights up as he talks about his school, "Our school was destroyed. When I came back to school I was so happy. I get to write and do my assignments. They gave us bags, school supplies and more."
Fighting for survival
On November 8, 2013 Anibong, which sits on low-ground by the water in Tacloban, was badly affected by Typhoon Haiyan - the largest ever typhoon to make landfall. It destroyed homes, schools and livelihoods.
Gerald lives with his mum, dad and four siblings in a makeshift home near the water. Today it's calm enough to swim, but when the typhoon hit the storm surge was ferocious.
Gerald and his mother, Richelle, were separated from the rest of the family in the aftermath of the typhoon and found shelter in a concrete house on higher ground. For hours, Richelle and Gerald sat there not knowing where the others were, or if they had survived.
"It was the scariest thing a mother could experience," says Richelle. I was praying for their safety the whole time. I forgot that I was five months pregnant and all I wanted was to be with the rest of my children."
A missing child
Three days after the typhoon, Richelle woke to find that Gerald was missing and spent hours searching for him. "I was worried because there were a lot of dead bodies around and I couldn't find him," she says.
At dusk, he finally came home, all wet and dirty. He had some canned food with him as well as uncooked rice and clothes.
Gerald says, "After the typhoon I went to the mall to get some food because my baby brother was crying. I went to look for food and water. I wanted to help my mother and my siblings because we didn't have anything to eat."
Richelle was overwhelmed to see him, "Tears of joy fell from my eyes when I saw Gerald. I was so happy that he thought of us and he found a way to get food for us."
Even at nine-years-old Gerald showed the strength of spirit and resilience which has underpinned the Filipino people's response to Typhoon Haiyan.
Rebuilding lives
The task at hand for relief and recovery was enormous and extremely challenging after the typhoon. UNICEF was on the ground within the first days beating formidable logistical and communications challenges in getting supplies and services to the people most in need.
As soon as possible, UNICEF's response also included helping children, like Gerald, back into school. As in all emergencies, education is vital for children to experience a normal routine in a safe place while parents can focus on rebuilding their lives.
After Typhoon Haiyan, over 3,200 schools and day care centres were destroyed and over a million pre-schoolers and school-aged children found themselves lacking learning opportunities. UNICEF and partners focused on working to promote children's 'back to learning' in schools by improving facilities and communicating the benefits and importance of education.
This included:
Reaching 624,783 pre-school and school-aged children with learning supplies and materials in the affected areas.
Helping 213,200 children to access education at over 2000 Temporary Learning Spaces by providing tents and tarps.
Making over 1706 makeshift solutions and repairs for classrooms and day care centres to restore them to safe learning environments.
Providing 504,000 children with school hygiene kits containing soap, toothbrush, toothpaste and a water tumbler.
Dreams for the future
Back at school, Gerald happily shows us how well he can brush his teeth with his bright purple toothbrush. Keeping children healthy through good hygiene at the school is as important as books and pencils.
Richelle says the support her children received was a big help, "I am thankful for all the help we got from the different NGOs and international organizations like UNICEF. My kids received bags and school supplies which were a huge aid help in easing them back to school since the January opening." She said says going back to school helped the children get back on track and got their minds off the tragedy that they experienced.
Now Gerald is dreaming of flying more than a paper aeroplane one day, "When I grow up I want to be a pilot. Be able to fly an airplane," he says beaming. "Thanks a lot to those who helped us, we are happy now."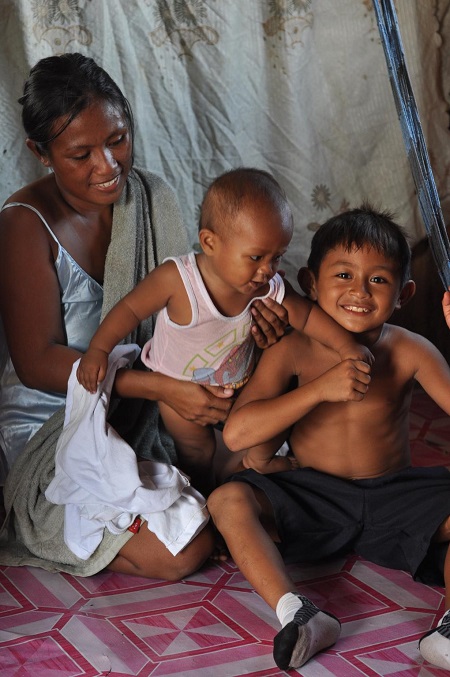 A huge thank you
UNICEF would also like to thank everyone who made it possible for us to support children like Gerald on their long road to recovery, by helping to fund programmes like education. Filipino people often thank UNICEF workers on the ground for their support and that thank you belongs to all who helped in our efforts to restore devastated lives and communities.
Read more stories of survival:
Learn more about how UNICEF works to support children like Gerald during an emergency.
Categories:
Geographic Regions: