Happy National Volunteer Week!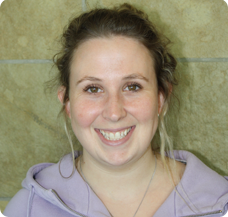 Upon entering our national office, the warm and smiling face of Ellen Mitchell, our young and dynamic volunteer receptionist, is the first thing you see. "Volunteers like Ellen are absolutely integral to UNICEF Canada," says David Morley, President and CEO. "Their passion and commitment have always enabled this organization to go the extra mile for children." A student at Humber College studying international development and global studies, Ellen just started volunteering with UNICEF as a receptionist a few weeks ago.
And she's already having a blast. "It's been a lot of fun working here so far," she says. "Everyone's so nice! It's a great place to work."
Ellen is finding her time here both exciting and rewarding. "It's such a great experience to be involved with UNICEF. What this office does is so important because it's the first thing Canadians see when they want to connect with the organization," she says. In particular, Ellen has deep respect for UNICEF's global efforts to help children. "I know the amazing impact that they can have in communities around the world," she says, nodding.
As a student of global studies, Ellen appreciates the international component of UNICEF Canada. "I enjoy watching all the different people who come through, and how we skype with different UNICEF offices all over the world," she says. "UNICEF is an extremely well-known organization. The work that they do is highly respected. So just to be a part of something that big is great!"
Ellen has been doing some stewardship work with Canadian donors, and believes strongly in UNICEF Canada's mission to empower Canadians. "It's so important to connect with Canadians and get them involved—and then keep them involved," she says with a smile.
Ellen is very interested in corporate social responsibility and hopes one day to get into development work overseas. She believes working with UNICEF is an excellent way to gain important real world experience in her field of study. "They can teach you everything in school, but it isn't the same as really getting involved."
Thank you to all our volunteers across the country! Would you like to be a volunteer with UNICEF Canada? It only takes a few minutes of your time to volunteer online!
Categories:
Geographic Regions: