Have you met Plumpy Man?
Lucy Rizzi is a passionate teacher and a concerned global citizen. Last year, she was moved by how the drought in the Horn of Africa was jeopardizing the lives of children - children just like her students at Father John Kelly Catholic School in Ontario.
When Lucy read about
Plumpy'Nut
(a therapeutic food to treat malnutrtion) in the
Toronto Star
, she was inspired to take action. Students at Father John Kelly Catholic School came together to host a fundraiser - and Plumpy Man was born!
Lucy created a stick figure drawing to hang in the school. For every $10 the students raised, they pasted a circle to represent Plumpy Man gaining weight.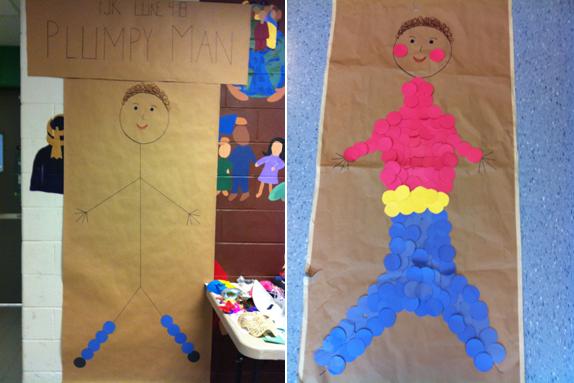 The Students also organized a Game Day Buy-out, whereby the classrooms would raise money to buy time to play games on a Friday afternoon. $25 bought 40 minutes, $50 bought 90 minutes, and $100 bought the entire afternoon. As an incentive for a class to raise more than $100, the top grossing class won a pizza lunch on Game Day.
Overall, the school had raised $1,700 for Plumpy'Nut. Incredible!
The
Toronto Star
may have called Plumpy'Nut a "
miracle peanut butter
," but the real miracle is seeing Canadians like Lucy and her students do all they can to help save lives.
Do you have a story like Lucy's? Email us at digital@unicef.ca!
In the News
Somalia famine baby back from brink of death
Plumpy'Nut
Boost a child's chance of survival with this therapeutic, peanut-based food. Three packets a day will help a malnourished child gain up to two pounds in a single week. A $10 donation provides a child with 21 Packets.
Geographic Regions: