Help for Hard to Reach Urban Working Children
A few months ago Saima spent long days picking through the teeming rubbish heaps of one of the poorest slums in Bangladesh. Once she had collected enough rags to sell, she would take them to a local shopkeeper who would give her a few cents for her bundle. Work was her only classroom.
"I would often cut my hands and legs," Saima said, looking down at her bare feet. "It was really painful work."
Like almost 8 million Bangladeshi children, Saima has to work to support her family. With 41 percent of the population living on less than $1 a day, millions of children, like Saima, are forced to work, often in hazardous and low-waged jobs, to help support themselves and their families. The freedom to attend school is a distant dream.
Recently, a community worker told Saima about a UNICEF-funded space for children at risk. All the children at the centre are just like Saima. Most children who attend the informal, child-friendly space are hard to reach urban working children and some have even been living on the street.
Like Saima, many of the children are quiet and tentative at first. But patient and experienced teachers are on hand to enrich the experience for each child. At the centre, Saima is learning basic Bangla, social science and basic math. She is also gaining knowledge of life skills, healthcare and child rights. A paramedic is on hand for a weekly checkup.
When asked what she enjoys about coming to the child friendly space, Saima replies, "In our school, I like reading and writing. I also like singing and dancing.
The centre acknowledges the realities of these families by allowing children to attend classes six days a week, for 2.5 hours each day, so they can still continue to support their families while fulfilling their right to an education.
So today, on International Women's Day, we celebrate the resilience and spirit of young girls and women like Saima. Thanks to the generosity of our donors, Saima is attending a UNICEF-supported centre for children at risk. Most working children cannot afford the time to attend regular schooling, but this innovative programme acknowledges the realities of life for children living in the slums.
Watch Video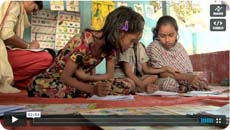 Categories: