Helping Children in Emergencies
Picture 10 children in your life. They could be your kids, nieces and nephews or grandkids. Now picture one of them narrowly escaping bombs, guns or machetes. Imagine them living in fear, through no fault of their own.
More than 1 in 10 children worldwide live in areas affected by deadly conflict – surviving targeted attacks, rape and torture. I think of the kids in my life and I can't imagine them enduring so much fear and pain. I can't imagine the loss of innocence or loss of life.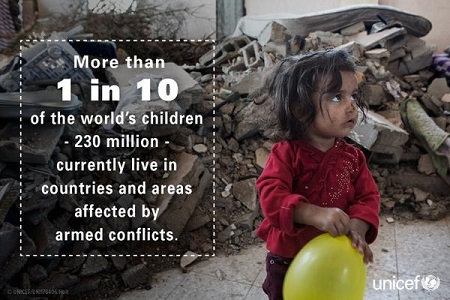 It's an atrocity the world doesn't discuss enough. When conflicts like the ones in Syria, Iraq, Central African Republic or South Sudan appear in the news, the focus is on politics. But what about the 230 million children caught in the middle?
Action for Children
UNICEF is calling on the world to see these conflicts through their eyes. We're calling on the world to help us protect children – wherever they are – as we tackle an unprecedented number of emergencies in 2015.
UNICEF's Humanitarian Action for Children 2015 report was released today, outlining the situation for children experiencing conflicts, natural disasters and epidemics (like Ebola). We know that with global support, UNICEF can reach 98 million people living in distress. With US$3.1 billion, we can help vulnerable families in 71 countries.
If we can help, we must. And though it seems daunting, we will find a way. There is no child too far.
All children have the right to be healthy, educated and safe. They should all have a future – including the children in my life and the children below.
Syria and region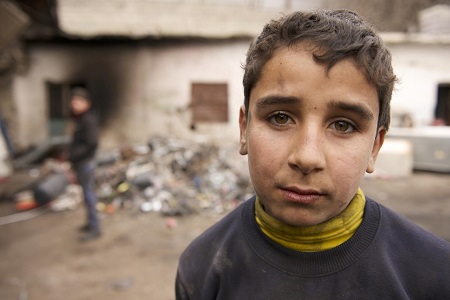 Ahmed and his siblings fled deadly violence in Syria to find shelter in Turkey. They left their homes with nothing, so he is now supporting his family, working from early morning until late at night. But he should be in school. We need to protect children like Ahmed, providing life-saving vaccination, water and sanitation, education and child protection programs.
Ebola in West Africa
Mercy (age 9), Martu and Harris (age 17) are a new family, brought together because of Ebola. Mercy and Harris are Ebola survivors, but they lost their mom to the disease. Thankfully, they have Martu, who became their foster mom. We need to provide more support to families battling Ebola, from rapidly isolating and treating every case, preventing further outbreaks and bolstering basic health and social services.
Together, we can help children like Ahmed, Mercy and Harris.
Share this blog post via social media and share their stories. (Use the buttons above)
Support our Emergency Fund. Every donation counts!
Categories: