How happy are children in Canada?
By Stacia Sahi, UNICEF Canada
How happy are you today? That's a question that the United Nations asks on March 20th, the International Day of Happiness. Happiness is actually more complicated than many people realize. Adults often associate financial stability as key to their happiness. But what makes children happy?
It can be disconcerting to see photos of children in the worst of circumstances with big smiles on their faces. How can children living in war zones or deep poverty still manage to smile? The fact is that children's happiness is influenced by more than just material conditions. Children in poor relative circumstances can still feel happy, and vice versa. Personality traits, culture, perceptions, expectations, and adaptability can affect how happy an individual child may be. UNICEF's Report Card 11 found that positive relationships with family and friends contributes significantly to a child's level of happiness – which seems to hold true around the world. Children are also happier when they perceive their living conditions as the same as other children's.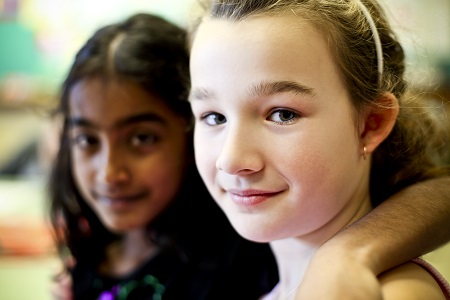 Canadian children's level of self-reported life satisfaction is lower than what might be expected given their relatively high levels of material well-being. In fact, UNICEF found that while Canada ranks 17th of 29 rich nations in our Index of Child Well-being (based on "objective" indicators like healthy weight, infant mortality, smoking, bullying, etc.) when Canadian children are asked about their lives, they report significantly lower life-satisfaction - at 24th place of 29 countries. And while most "objective" measures have improved over time, Canadian children's life satisfaction has decreased over the past decade, a worrying trend shown in only a handful of industrialized countries. RBC's Kids Optimism Survey found that while most Canadian kids describe themselves as happy, a dramatic decline occurs in the late-teen years, as anxiety about school, jobs, and opportunities intensifies.
As children move into adolescence their self-confidence tends to erode and they're less likely to say their family believes in them and makes them feel good. Since close relationships with family and friends contribute to happiness, we can see how difficulties with these relationships in the tumultuous teen years could lead to a decline in happiness. But as parents, friends and others with children in our lives, we can influence their happiness and optimism. Similar to international findings, more than half of Canadian kids say the opinions of mentors play an important role in how they feel, think and behave. These findings remind us that it's important to nurture kids' sense of connectedness. UNICEF Canada does this in our work with children in emergencies, and you can do it right here at home in Canada.
On this International Day of Happiness, ask a child in your life how they're feeling today. You might open a conversation that makes a difference.
Categories:
Geographic Regions: