In desperate Syrian town of Madaya, children too weak to smile
By Rafik ElOuerchefani and UNICEF Canada
A relief convoy to a Syrian town cut off by conflict finds residents barely surviving – a shock even to aid workers who see suffering every day.
"A heartbreaking scene like I have never seen before," said UNICEF Representative in the Syrian Arab Republic Hanaa Singer, describing the crowds of people in Madaya, as a humanitarian convoy arrived in the town.
Hundreds of people had gathered. They were standing in the dark. Madaya's nights hadn't seen light in weeks. The convoy lights revealed pale faces, thin and weak bodies of people in desperate need of food, shivering in the freezing cold. The mission that had started at 10 a.m. in Damascus reached Madaya, just 45 km away, at dark.
Children and adults were asking, "Do you have food? Did you bring us bread? Will we eat tonight?"
One little girl asked Ms. Singer, "Please auntie, I am so sorry to ask, but do you have a slice of bread?"
Later, Ms. Singer said, "A mother of six hugged me and whispered in my ear, 'I just lost my elder son to starvation. He was 17. Please help me keep alive the remaining five."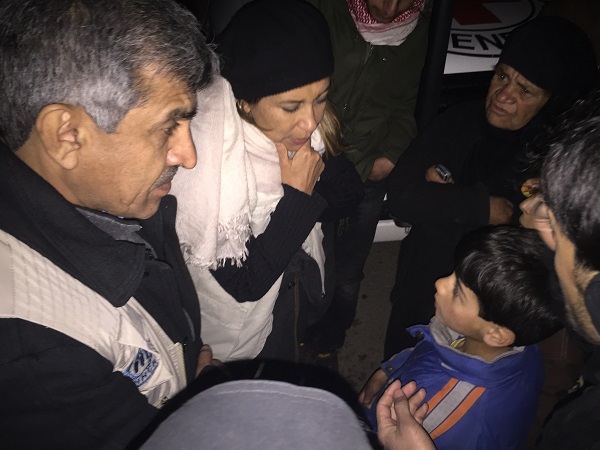 © UNICEF Syrian Arab Republic/2016/Sanadiki
UNICEF Representative in the Syrian Arab Republic Hanaa Singer (centre) meets 10-year-old Mohammed, who was separated from his parents when the town came under siege.
Harsh reality
In Madaya, once a popular summer resort town, the harsh reality of the suffering its residents have endured was recounted multiple times by children and adults – each account harrowingly similar. Survival was sustained on soup made of water, leaves, grass and some spices. A young man recently lost his leg when he stepped on an explosive remnant while cutting grass.
Dr. Hussam Baradee, UNICEF Health and Nutrition Officer, participated in the mission, led jointly by the Syrian Arab Red Crescent, the International Committee of the Red Cross and United Nations agencies.
"I had an apple in my bag, for when I get hungry during this long mission. I gave it to a little girl," he said. "It was not only children. Older people would come to you asking, 'Would you have anything to eat?' It shattered my heart."
The UNICEF team held a meeting with the only two doctors in town. During the last two months, one had lost 25 kg; the other had lost 15. Yet, they still continued their work, showing up every day, despite the dismal state of the medical facilities, where supplies were almost nonexistent.
As the team spoke to children and parents, one little boy stood by silently. He looked frightened. An old woman introduced him. "His parents were out of town when the siege began," she said. "They have been separated ever since, though they are only a hundred metres away."
The 10-year-old boy has survived on the kindness of his neighbours, who shared with him their grass and leaf soups. He could barely articulate his name, Mohammed.
In any other circumstances, his parents would have been a short ride away; but with passage in and out of the town blocked by a checkpoint, reunifying the young boywith his parents became impossible. Negotiations are now underway to let the boy find warmth in his mother's arms.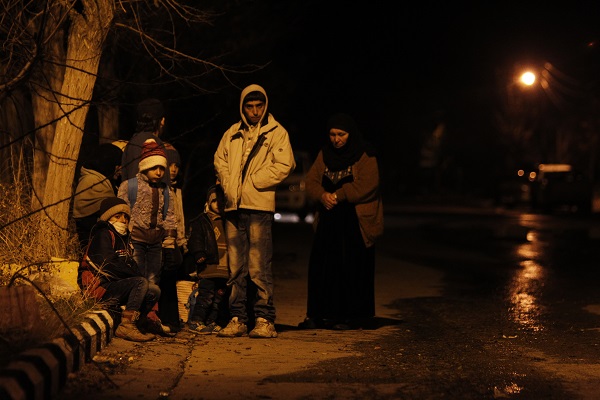 © UNICEF Syrian Arab Republic/2016/Sanadiki
A family at the entrance to Madaya waiting for permission to leave the besieged town.
"Not enough"
The mission continued throughout the night. Forty-four trucks had left Damascus loaded with all kinds of relief supplies. One broke down on the way and its consignment moved onto three other trucks. The offloading in Madaya continued into the early hours, well after 4 a.m.
UNICEF delivered supplies for the treatment of malnutrition, including micronutrients, ready-to-eat therapeutic food, and high-energy biscuits. In the next days, UNICEF and partners will provide health workers with further technical support to establish inpatient and outpatient stabilization and treatment centres. Winter clothes and blankets will also be distributed.
When the team prepared to leave, an old women approached them. "Thank you," she said.
"For what? It's our duty, and this is not enough," they told her. "We want to do more."
"Thank you for coming," she said. "It has been a long time since we have had visitors."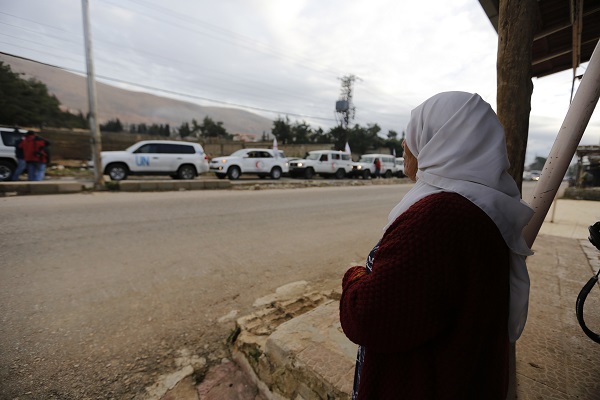 © UNICEF Syrian Arab Republic/2016/Sanadik
A woman watches a convoy carrying aid supplies to Madaya, passing through the town of Wadi Barada, 10 km away, where many residents displaced from Madaya live.
Keeping life-saving supplies flowing
Sadly, Madaya is by no means unique. Across Syria, civilian areas are being held under siege in 15 different locations by various parties to the conflict. Around 400,000 people have been trapped inside these areas, sometimes for years on end, with highly constrained access to food, clean water, health and other basic services. We need to reach the hardest-to-reach.
From now until February 29, 2016 the Government of Canada will match every dollar you give to a maximum of $100,000. Every donation counts.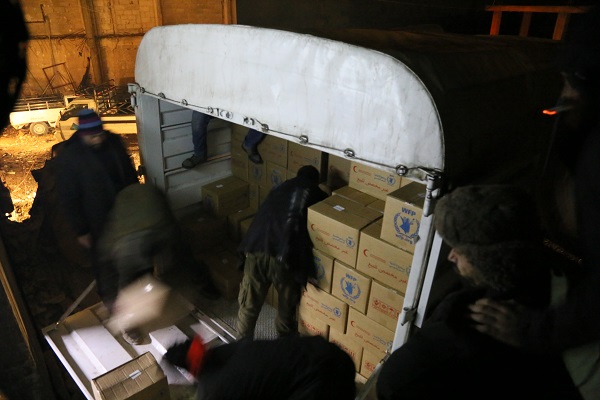 Categories:
Geographic Regions: