In the Philippines, children find hope during the Holidays
San Roque Elementary School was painted a cheerful canary yellow, the classrooms were bright and sunny and trees grew in the courtyard. "It was lovely," one of the teachers told me. "There were trees everywhere – all around the neighbourhood."
Not any more. The school sits 200 metres from the ocean, and the storm surge from last month's typhoon rushed up 6 metres high, as tall as the tops of the trees, and swept everything in the community of Tanuan away – the homes, the trees, and the lovely San Roque School. "There used to be 300 homes here" the school principal said. "Now there are 300 tents."
But nevertheless, it was the last day of school today and there were visitors at the school, and so it was time for a Christmas Party. UNICEF has provided tents and school materials to the school as well as supplies to the whole community, and the children and teachers were welcoming and filled with warmth. The principal made a moving speech, remembering the teacher who was killed in the typhoon, remembering all that had been lost, giving thanks for what they still had and looking to the future. And then she had to stop, and the teachers gathered round her, because she wasIn the about to start crying.
The Philippines is used to typhoons, and when the warnings for Haiyan came out many people went to the evacuation centres. But this was the biggest storm in recorded human history, and while people knew there would be wind and rain, no one expected the storm surge of tsunami-like proportions.
How can I describe the indescribable? All along the road out from Tacloban to Tanuan there is nothing but desctruction. The small homes of the fisher families and farmers are gone. There are piles of rubble – tree trunks, corrugated tin sheets, broken children's toys, crumbling walls, and, every now and then, a house or building which somehow withstood the surge.
And how do I describe the people? How in the world do they find the strength to hold a Christmas party? I sat in the rubble of the ruined San Roque school with Angela Kearney, the woman in charge of our relief operations here in Tacloban, and we started singing the Twelve Days of Christmas. The children knew the words better than we did, and soon a young boy of about 11 or 12 was leading us all with "pipers piping" and lord's a-leaping" all the way down to the single partridge in his solitary pear tree.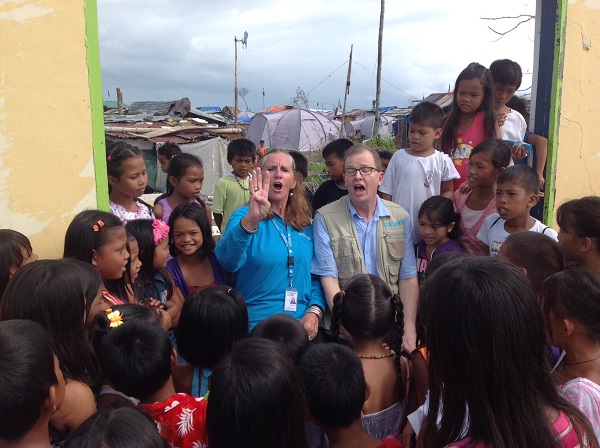 Imagine that. Sitting in a ruined school, in the midst of a community valiantly trying to rebuild itself (the background sounds of men working with hammers and nails was the sound of homes rising from the rubble), the voices of children singing a happy song. I feel so fortunate that UNICEF has been able to provide the help we have – going back to school – even in tents – is a way to help life get back to normal. There is a long way to go, but this is a solid start on the road to recovery for the people of Tanuan.
The next 365 days will be critical for these children at San Roque Elementary School. Join our Philippines 365 Program here to provide monthly support.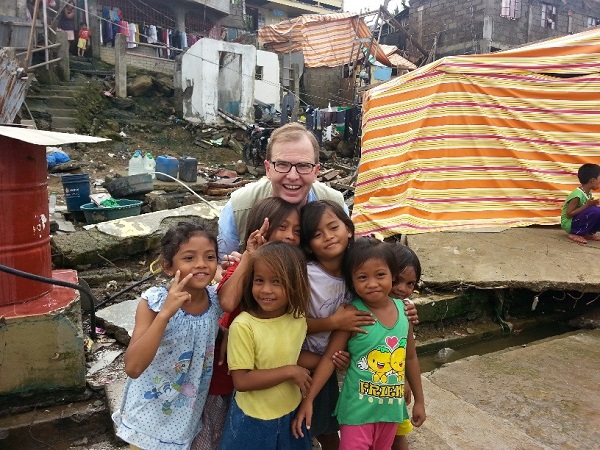 Categories:
Geographic Regions: