In Zimbabwe, village health workers play an essential role in the primary healthcare system and the fight against HIV/AIDS
By Mary Lynn Lalonde
ZIMBABWE, 29 November 2012 - In Zimbabwe, you need at least two things to be a village health worker like Viola Chapwanya. One is a bicycle. The other is impossible to buy.
Chapwanya says, "If you want to join the village health worker programme, you need great love. Great love for the community."
Reaching remote families
Village health workers play an essential role in the primary healthcare system in Zimbabwe, a country in which weakened and deteriorating basic social services and a fragile political situation have challenged the healthcare sector.
All of the country's village health workers have been especially selected by the elders in their villages because of the respect they've earned in the community. Ms. Chapwanya has proudly served in her position since 2001.
Village health workers receive ongoing training, as well as uniforms and health kits. They are given a bicycle, which provides a low-cost and sustainable mode of transport that allows them to travel up to 20 km a day to reach remote rural families.
Working at the epicentre of the AIDS epidemic
Zimbabwe is at the epicentre of the HIV/AIDS epidemic. Nearly 1 in every 6 children has lost one or both parents to AIDS.
Village health workers, who know and have held every child in their community, come face to face with the reality of the situation on a daily basis.
Making sure that pregnant women are tested early and receive anti-retroviral drugs helps ensure that fewer mothers pass the virus along to their babies.
Ms. Chapwanya stoops to pick up Last, the appropriately named final child of HIV-positive parents. "When I see this boy," she says, "I can feel glad. I feel happy because Last is HIV-negative. He's growing well."
She shares important lessons with Last's parents about keeping the boy well fed, about hand-washing and about keeping their living environment clean of refuse so that the entire family can remain healthy.
Facing community challenges, together
On this same day, Ms. Chapwanya visits Isaac and Regina. The young couple live with Isaac's extended family. They are expecting their first baby. Regina is hoping for a baby girl.
The parents-to-be agree that their primary wish is for a healthy baby. While Regina has already tested negative for HIV, Isaac has yet to be tested.
Ms. Chapwanya encourages fathers like Isaac to be tested, despite cultural resistance.
"In our culture, it is difficult," she says. "The men will say, 'I'm not pregnant. Why should I be tested?' But I tell them this is not a man's problem. This is not a woman's problem. It's a community problem. I encourage them to be tested."
Maternal mortality is also a concern of Ms. Chapwanya. Here, 1 in 8 women dies in pregnancy or childbirth. Ms. Chapwanya encourages Regina to allow her to accompany her to a local clinic when it's time to give birth. A sign at the local clinic reads: "No matter where a woman lives, giving birth should be a time of joy and not a sentence to death."
When Ms. Chapwanya is asked how long she plans to be a village health worker, she breaks into another one of her warm smiles. "I will be a village health worker forever," she says.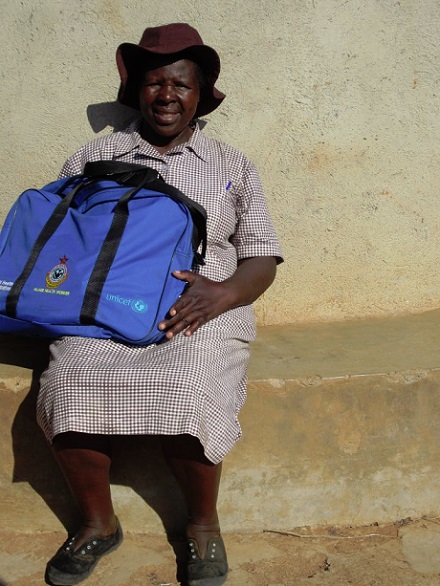 © UNICEF Zimbabwe/2012/Lalonde Village health workers receive bicycles to help them reach remote rural families. They also receive ongoing training, as well as uniforms and health kits, like the one Ms Chapwanya holds here.
Categories:
Geographic Regions: