Innovating for Change in Uganda
Innovative thinking permeates UNICEF Uganda and the way they work. Take the Digital Drum for instance. We wanted to find ways to start to bridge the digital divide here in Uganda. Our tech teams developed open-source educational programming and our engineers worked on making an indestructible computer. They've already gone through a few generations of development, from the digital drum – a computer encased in a 50 gallon steel drum – to the digital kiosk. The 50 gallon drum still provides the base and houses the electronic guts, but now there are three computers and a large screen perched on top for showing videos to an audience.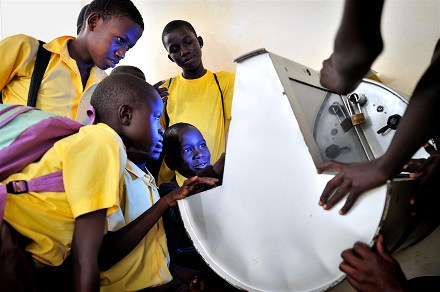 Young Ugandans gather around to use UNICEF's unique solar-powered Digital Drum at Bosco Youth Centre in Gulu, Uganda.
Each iteration of the Digital Drum gets tested with a community group. One of the tests sites is the Treasure Life Centre (TLC).
You get to TLC by driving through a maze of streets in one of Kampala's poorest neighbourhoods. Suddenly, instead of yet another narrow winding lane, the street opens up – there's a playing field, basketball nets, and a youth centre.
We are met by Enock. "Many of the children here don't go to school," he says. "Then as they grow up they start to get into trouble. Many of them lost their parents to AIDS. The people here at TLC want to help – there are sports and music programs – we've even made some music videos and they are on YouTube – and we teach about reproductive health. We go where the kids hang out and get in trouble. We give them advice about how to live responsibly when there is so much HIV and poverty." He pauses, takes a deep breath and adds. "TLC helped me when I needed guidance. That's how I got involved."
"It is good, you know, when a young person like me talks with them. Adults might be quick to judge and condemn. I understand and can talk with them."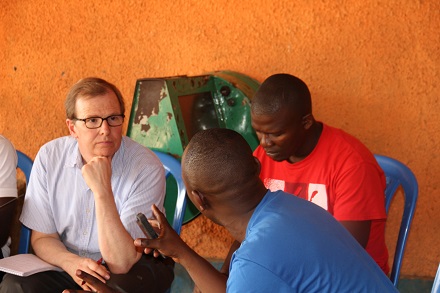 David learns more about the challenges and opportunities at the Treasure Life Centre.
Six of our digital drums and digital kiosks are set up here at TLC. While little kids play a math game and do puzzles on some computer, teenagers use an off-line Wikipedia to do homework. Everything is off-line because we there is no internet in this community (and nobody can afford a computer anyhow) but our programming partners have created an open-source off-line system which mimics the internet and program which are used in offices around the world.
The computer room is filled with boys today. Robby, who runs the partnership between UNICEF and TLC, says "we have to make special time for girls to come and use the computers; otherwise the boys would never give them a chance."
I am struck by the openness of the centre. The playing field is not fenced off – indeed, it feels more like a central square in a small town than a youth centre in an urban shanty town. "Here in this ghetto," Enock says, "we keep it open so that everyone feels comfortable. If we had a big fence or a wall, people would wonder what we do in here. This way, it is open to all. Parents send their little children here to play and they ask us to keep an eye on them. So we do."
The lessons we have learned through our partnership with TLC have helped us through three prototypes of the digital drum. Back at our innovation lab on the edge of Kampala, our engineers describe the challenges they have to balance – durability, ease of installment and repair, unstable power source and battery life and weight – for the digital kiosk and also for the digital school in a box as well. We learn great lessons from the hard and constant use these computers get from the kids here at TLC.
But this isn't all when it comes to innovation. The work UNICEF Uganda has done with our partners – government ministries, private sector partners, NGOs like Save the Children and World Vision, and countless community groups – all this work has spawned new ideas and new ways of thinking – and it is paying off. There are the solar powered boreholes that the Principal at Wasimba School wants – they can provide 3,000 people with water; a conventional borehole can only do 500. There's mTrac for improving disease monitoring and drug delivery while increasing the accountability of the health system, and educTrac which is doing the same for the education system.
And there's U-Report, a text messaging system that lets Ugandans voice their opinions – more than 250,000 Ugandan youth are registered. Each week an SMS poll is sent out to all users, for example: "If you get water from a borehole, is it working today – yes or no?" The results of the different polls are publicized in the mainstream media, so it is harder for Uganda's forgotten people to be ignored.
I must admit, before I came here I was sceptical about all this talk about innovation. I've heard it too often in my career, I guess, how the next great thing will singlehandedly change the world. But after some time here with UNICEF Uganda I can see how all these innovations – innovations we are putting into practice today – can change a whole country for the better. It will require money, more partnerships, and UNICEF's unparalleled reach – from the tiniest community, to international NGOs, donor governments, and the Ugandan government. But if we do it well – and from the big steps taken so far there is no reason to doubt we will not – these innovations will make an incredible difference in the lives of millions of Ugandan children.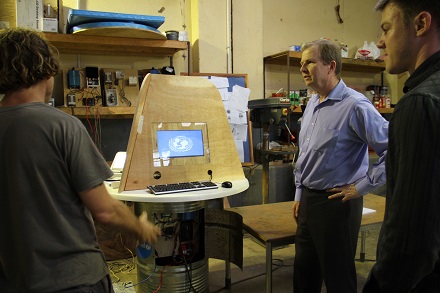 David learns more about how technology and ingenuity at the UNICEF Innovation Lab meet the needs of students to bridge the digital divide.
Categories: