Innovation Is...
Amanda Cockroft heads up our five-person Innovation Unit in Copenhagen, the team tasked with marrying the needs of the world's most vulnerable children with creative solutions to the obstacles that sometimes get in the way. Solutions arise from many walks of life – academics, designers, entrepreneurs, UNICEF staff, even children themselves.
The unit drives innovation with one clear purpose in mind: to dramatically increase the number of children's lives we can save and to improve the quality of life for still many more.
Simple, sustainable and effective, its projects herald a critical new approach in the world of development. Imagine collapsible water containers that can be carried on a bike, by hand or on the top of one's head, solar powered technology, improved pneumonia diagnostic equipment, or the creation of better systems for reuniting families separated by conflict or disaster – to name just a few.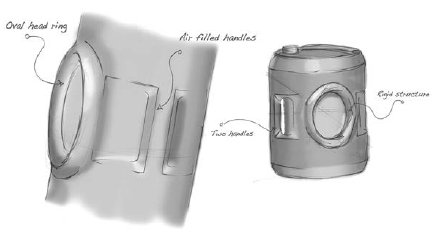 An early concept drawing of a collapsible water container designed to be carried on a bike, by hand or on the top of one's head. By designing a light weight collapsible water container, we are able to transport greater quantities of containers where they are needed most in the most cost effective way possible.
Amanda defines innovation as "the successful exploitation of ideas – making new connections; creating value; improving existing goods, processes or services, or developing ones that have not existed previously."
To do so, the Innovation Unit endeavours to 'crowdsource,' or harvest ideas from the general public. This means that anyone can submit an idea online – anytime. Moreover, UNICEF believes in open innovation that can be shared with the world. If other organizations find our ideas useful, then more people can benefit from them.
The result is a two-way flow of ideas and technology – all to give children around the world a better chance at a brighter future.
"It's such a privilege to be able to put my skills to work for humanitarian benefit," says Amanda. "I can't imagine a more satisfying job than knowing that what I do, what my team does every day, will save lives, improve lives around the world, now and for generations to come."
Digital Drum
UNICEF's digital drum was rated best invention in Time Magazine's annual "Best Inventions issue in 2011.
Pictured: Young Ugandans gather around to use UNICEF's unique innovation the solar powered Digital Drum, at Bosco Youth Centre in Gulu, Uganda (©UNICEF Uganda 2011/Yannick Tylle).
Innovation Is:
The cultivation, identification and harnessing of great ideas. UNICEF does just that. We take the best of the best, nurture their development, and transform them into life-saving solutions that benefit the world's most vulnerable children in the world' most remote and hard-to-reach places.
More in this Blog Series
Texting the Way to Better Child Health
A Sustainable Solution in Mogadishu
Mobile Phone Technology Helps Children Map the Change They Need
Categories:
Geographic Regions: