Inspiring Grade 4 students become advocates for Syria's children
By Tara Moayed
Last week I had the privilege of meeting Mrs. Mattesz's Grade 4 class at Featherston Drive Public School in Ottawa, who had raised $550 for UNICEF's work in Syria. They had invited me to speak to them about what UNICEF was doing to help Syria's children and how their money would contribute to that work.
I had never spoken at a school before. It was more a matter of sheer luck, being in the right place at the right time, that I was able to go to visit the class at Featherston. I was excited to talk to this group of students who demonstrated so much compassion for children halfway around the world who they would never meet. But I was also very scared, not knowing how I would speak about the violence and exploding crisis in Syria – where children are being targeted, abused and killed – to primary school students.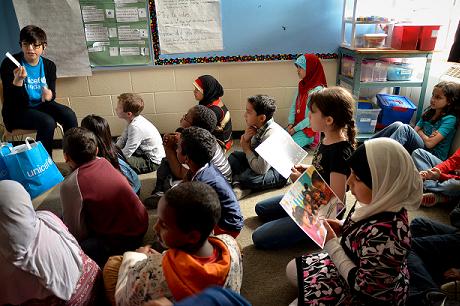 My fear though was short lived. Mrs. Mattesz's class had done their research. Soon after I started speaking to the class, I began getting questions about direct targeting of children, displacement of families, how cold it was in the winter, school closures, and even the safety of UNICEF staff who are working inside Syria.
Mrs. Mattesz told me that she had asked the students themselves to decide what they wanted to fundraise for. Once they had decided on helping the children caught in crisis in Syria, their teacher had helped them research which organisation to give their money to. Together, the class chose UNICEF because it was non-partisan, and worked to reach ever child caught in the conflict.
The students understood what was going on in Syria. They sympathised with kids who were in the midst of the fighting. And that's why they had decided to fundraise to help the child victims of the war. The entire class had worked together to organise a bake sale, a garage sale and a raffle. But for them, it wasn't only about fundraising. They also wanted to make sure that other students in their school were aware of what was going on. In groups of two, they had visited every class in the school to talk to students about the situation of children in Syria. They had become Featherston's advocates for Syria's children.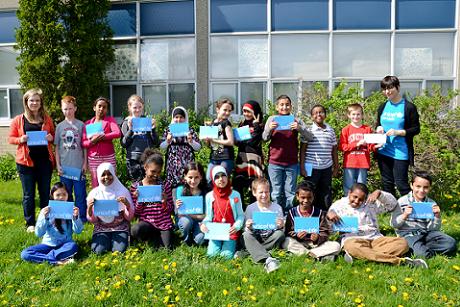 Mrs. Mattesz asked the class what they were most proud of in their efforts – they agreed that it was their teamwork and determination. They were proud of how well they had worked together to help the children of Syria. Mrs. Mattesz was proud of them as well. I am proud of them too. Since coming back from the visit, I have told everyone at UNICEF Canada about this exceptional group of grade 4s. They are true global citizens who have inspired me with their compassion and dedication.
On behalf of UNICEF Canada, I want to thank Mrs. Mattesz's Grade 4 class at Featherston for believing that no child is too far.
To support UNICEF's work for Syrian refugee children, please donate at unicef.ca/syria.
Categories:
Geographic Regions: