International Day of Peace: A Child Soldier Leaves War Behind
"If we are to teach real peace in this world, and if we are to carry on a real war against war, we shall have to begin with the children." Mahatma Gandhi
Mustafa wipes his tears with the green camouflage headscarf he has worn for the past year and a half – time he spent with an armed group in the Central African Republic.
His older brother, who is 18 and remains a member of the group, stands in a crowd that has gathered to see Mustafa and two other boys leave. He is visibly emotional about Mustafa's departure, but tries not to let it show.
During the drive to N'dele, the car stops several times so that Mustafa can be sick. Halfway there, he throws his headscarf out the window. His life of war is over. A new, unknown future is unfolding.
Mustafa is welcomed at a UNICEF transit centre in N'dele by other children who have been released from armed groups. Here he will benefit from psychosocial services, and either return to school or learn a vocational skill. Soon, he will be reunited with his family.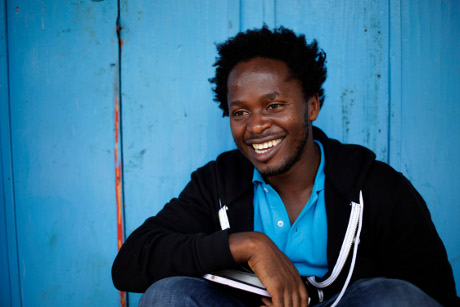 © UNICEF/NYHQ2012-0895/Sokol
UNICEF Advocate for Children Affected by War Ishmael Beah.
Some years ago, Ishmael Beah, UNICEF Advocate for Children Affected by War, found himself in a similar position. He was forcibly recruited as a child during a civil war in Sierre Leone and later wrote a bestselling book about his experiences, A Long Way Gone.
He endeavors to raise awareness about the challenges these children face. "I came to Central African Republic to shed light on the issues of children in armed conflict, which is a very dire situation here, and also to spend time with some of the young people who are coming from these groups and have been released," he said.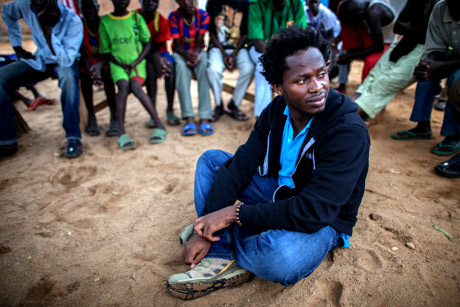 © UNICEF/NYHQ2012-0890/Sokol
UNICEF Advocate for Children Affected by War Ishmael Beah sits among recently released former child soldiers.
The recovery of these children in the Central African Republic is part of efforts by a UN task force – mandated by the UN Security Council – that releases and rehabilitates children associated with armed groups.
Yet many communities in Central African Republic are confronted with war and violence on a daily basis.
According to UNICEF Chief of Child Protection in the country, Fosca Giulidori, "the presence of these groups is very strong in the communities, and because there is such limited infrastructure and access to social services, children are particularly vulnerable to being recruited into armed groups because few other options exist for them."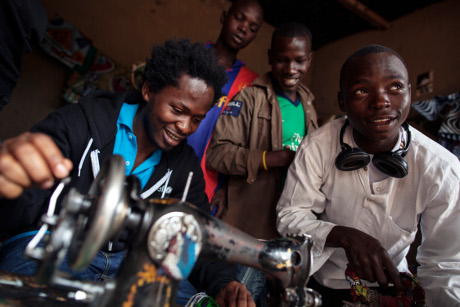 © UNICEF/NYHQ2012-0888/Sokol
Ishmael Beah reviews vocational training offered to former child soldiers at the transit centre.
"When you are conditioned to function a certain way, it takes time to know that something else is possible... I went through that myself," says Mr. Beah, who spent five days with the children conducting sessions about loss, war and reintegration.
"But it takes hard work. I want to leave behind the message that it is not easy, it takes perseverance, but in the end, you can get to the point when you feel like there is something better. This all starts by leaving behind your weapons."
Adapted from text by Suzanne Beukes.
Categories:
Geographic Regions: