International Development Week
By Meg French
Director of International Policy & Programs
Twelve years ago I stepped off a plane in Cebu, Philippines. It was a country I had never been to before and for the next 6 months I was going to be working in a local cooperative. I had been hired by the Canadian Cooperative Association as part of the CIDA International Youth Internship Program as a Gender Mainstreaming Officer. This was not my first experience living overseas – I had spent two years teaching high school students in the Marshall Islands – but it was my first job in 'International Development'. And while I like to think that the work I did over that time benefitted the men and women who were members of the cooperative, I do know that it made a big difference in my life and has helped me get to where I am today.
Today, 12 years later, I am the Director of International Policy and Programs for UNICEF Canada – an opportunity for which I am very grateful. For the last decade I've seen the work UNICEF does, and in a small way contributed to that work, to make the world a better place for children and their families no matter how far. And while UNICEF is clearly a global organization, I still feel a sense of pride in the role Canada and Canadians play in its work.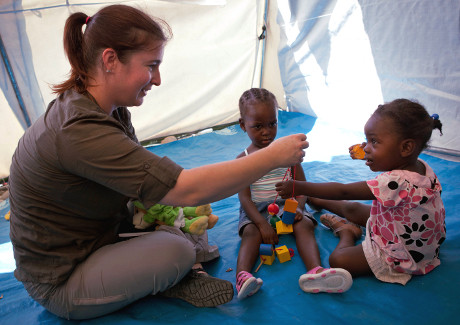 Meg plays with children in a child-friendly space in Port-au-Prince, Haiti.
Throughout my travels with UNICEF, from Mozambique to Haiti, I have met Canadian colleagues who are helping children to survive and thrive. I have seen funding from CIDA and from individual Canadians help protect children affected by disasters, provide boys and girls with an early childhood education, and ensure mothers and children have access to health care and proper nutrition.
And what does this look like? It is the mother I met who walked for kilometers to learn how to keep her newborn healthy and have her weighed and vaccinated. It is the grandmothers I sat with who started a school garden to make healthy meals for the community's orphans. It is the teens I spoke to who teach their peers and parents about the importance of hand washing to stop the spread of deadly diseases. It is the Ministry of Health officials I met who are leading efforts to improve HIV testing for infants so that they can be protected from infection or receive life-saving treatment as early as possible.
And most vivid for me is the little boy I played with in northern Uganda who was running around the hospital playing with empty milk cartons. I had assumed that he was the sibling of one of the very malnourished children I had just seen in the wards but I learned from a nurse that he in fact had been one of those sick children himself. And now he laughed and played.
This is the difference we can make in the lives of the world's most vulnerable children. This is the power of international development.
Categories:
Geographic Regions: