Journey to Recovery from Severe Acute Malnutrition in Niger
Two-and-a-half year old Oumaruo Seydou sits motionless in his mother's arms. He doesn't smile; he doesn't cry. He doesn't move.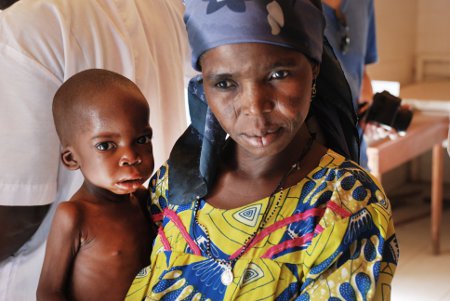 That was one month ago, after his mother, Barira Seydu, travelled 55 km to bring Oumarou to a UNICEF-supported intensive nutrition centre in Aguié, Niger.
He is one of nearly 394,000 children in Niger who are in need of treatment for severe acute malnutrition, a life-threatening condition. Their plight is a tragic consequence of the nutrition crisis currently gripping the Sahel region of West and Central Africa, where drought, poor harvests and rising food prices have all converged.
When he was first admitted to the nutrition centre, Oumarou weighed only 7.2 kg. A healthy child of his height should weigh at least 8.8 kg. He was also diagnosed with anemia, oedema, malaria, diarrhoea and respiratory infections – all complications of malnutrition. He was immediately hospitalized for intensive care.
Week One: During the first four days, Oumarou received therapeutic milk to restore his metabolic function, as well as malaria drugs, zinc, antibiotics and other medications to treat his complications. By the end of the week, he was recovering from the oedema and malaria. Yet his weight had dropped to a shocking 6.4 kg, a result of loss of fluids from his little body. He looked wasted, his skin stretched over his tiny bones.
Week Two: Oumarou began a diet of ready-to-use therapeutic foods like Plumpy-Nut in addition to therapeutic milk to provide him with essential nutrients. The results were promising: at the end of the week, Oumarou had gained 0.8 kg.
Weeks Three and Four: As Oumarou continued to gain weight, his mother was both thrilled and relieved. When he was discharged from the nutrition centre soon after, she was given careful instructions to continue his treatment of therapeutic food at home.
"I never thought my son would make it," Ms. Seydou says. "I already saw him dying. I was hopeless, but decided to give him the chance. We honored all the instructions the nurse gave and his condition improved significantly."
Oumarou was very lucky. There are one million children in West and Central Africa currently at risk of severe acute malnutrition in the Sahel.
UNICEF urgently requires additional funding to procure enough essential medicines and therapeutic food and milk to continue saving lives. Please donate today and ensure more children are as lucky as Oumarou.
Categories:
Geographic Regions: