Kites, Cameras, Action!
When he was a young boy, Michael Gomes Correia loved to fly kites with his friends in the Prazeres community, one of the favelas of Rio de Janeiro. Now, the 18-year-old student is using kites – and mobile technology – to map the favela's socio-environmental risks and improve the lives of children and families in his neighbourhood.
Located just above sea level, Rio de Janeiro is vulnerable to floods and landslides, natural disasters that are expected to increase in frequency with climate change. The city's favelas are already prone to these disasters, as well as socio-environmental risks like poor infrastructure. In recent years, heavy rains have destroyed houses and caused hundreds of casualties.
In response, UNICEF and its partners have developed a youth-led mapping project in which adolescents are engaged to identify social and environmental risks in their communities.
©UNICEF/CEDAPS
UNICEF, with the Massachusetts Institute of Technology (MIT), the Public Laboratory for Open Technology and Science (PLOTS) and the Innovative Support to Emergencies Diseases and Disasters (InSTEDD), developed a cutting-edge mapping platform known as UNICEF Geographic Information System (GIS), that enables real-time data collection through web and mobile applications.
"A phone application allows youth to produce a real-time portrait of their community through geo-located photos and videos, organized in thematic maps." (Rio Youth Mapping Project)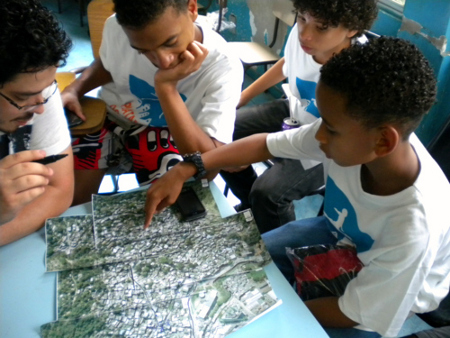 ©UNICEF/Brazil Fabio Caffe
Youth mappers used their phones to photograph potential hazards in their neighbourhood, which are automatically tagged with GPS coordinates, enabling researchers and officials to pinpoint their location. The young people then used cameras attached to kites to gather aerial images, helping to identify dangers such as structural collapse risks, sanitation problems, impediments to evacuation, or the accumulation of garbage.
Subsequently, UNICEF, the youth mappers and partners presented their findings to local authorities – with enormous success.
With the mapping results, the adolescents were able to mobilize the Morro dos Prazeres community to clean accumulated garbage in high-risk areas and help prevent landslides, as well as a variety of other major health hazards. They also advocated for the repair of the UGA-UGA Bridge, which has since been fixed.
The initiative is currently being expanded throughout five other communities. The program and its legacy will be used as a national model for youth-led community mapping across Brazil.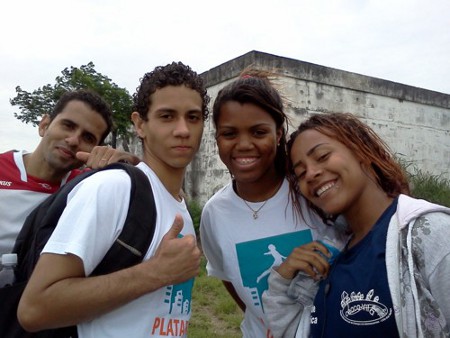 ©UNICEF/Brazil Fabio Caffe
For adolescents like Michael, this has been a promising start. "We need to believe," he said. "Make it happen and changes will come. This is the idea."
Adapted from text by Maria Estela Caparelli, Ludmilla Palazzo and Rhazi Kone.
Watch the Video!
Youth Led Digital Mapping
Follow this project on Tumblr
Innovation Is:
The cultivation, identification and harnessing of great ideas. UNICEF does just that. We take the best of the best, nurture their development, and transform them into life-saving solutions that benefit the world's most vulnerable children in the world' most remote and hard-to-reach places.
More in this Blog Series
Texting the Way to Better Child Health
A Sustainable Solution in Mogadishu
Mobile Phone Technology Helps Children Map the Change They Need
Categories:
Geographic Regions: