Learning with Bright Blue Blocks in Bangladesh
The importance of play in a child's development is so profound that it has been recognized by the United Nations as a birthright.
A child's first acts of creativity and exploration occur during play. It is critical to healthy brain development, and to building the physical, cognitive, and emotional strengths that will serve children throughout their lives.
The chance to play freely is especially critical for children who have witnessed trauma, violence, or deprivation. For these children, play has the power to rebuild lives.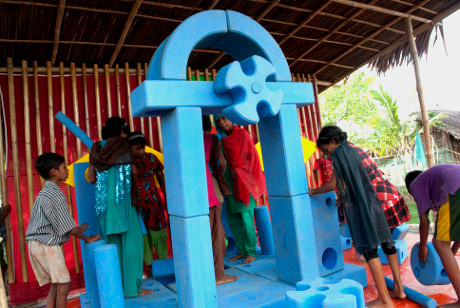 ©UNICEF/BANA2012-01124/Khan
Children play with building blocks at the Purbapara mobile Child Friendly Space in Khulna, Bangladesh.
Creating opportunities for play is an essential element of UNICEF's global programming for children. Currently, UNICEF is testing a new program in Haiti and Bangladesh called @Play.
The initiative includes a set of bright blue life-sized building blocks. The blocks are lightweight and easy to move around, so children can form shapes, build unique structures and create whole new environments of their very own.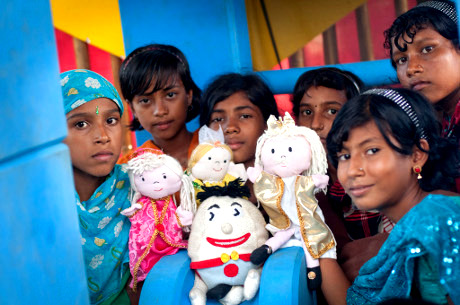 ©UNICEF/BANA2012-01126/Khan
Girls play with puppets inside a theatre they built out of blocks.
By playing with the blocks and building structures together, the children learn to communicate and cooperate, thereby developing important social skills.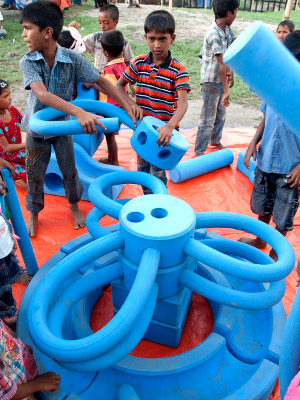 © UNICEF/BANA2012-01119/Khan
One of the most crucial elements of the project is that it highlights the importance of learning through play.
"People are finding out that it's good to be happy in schools because schools are very strict and have a tendency to separate happiness and learning," said Evelyn Margron, Country Director in Haiti of Tippa Tippa, a UNICEF partner organization.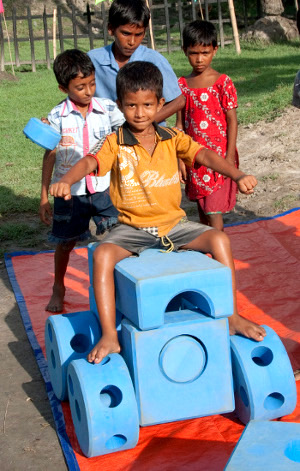 ©UNICEF/BANA2012-01112/Khan
Children work together to make a motorbike for their friend.
"I think that some teachers are realizing that you learn more if you are happy, and this is something that we are going to stress. It is important to be happy to go to school because you are going to enjoy what you are doing and you are going to learn more," she said.
Categories:
Geographic Regions: