Leaving it All Behind
July 25, 2012 - Um Karim made the decision to flee across the mountains into Lebanon with her seven children in a split second, as her neighbourhood was suddenly engulfed by violence.
"I just grabbed the children and ran," she said. "We didn't have time to take anything, not even our identity papers."
Her husband, a taxi driver, was unable to leave Syria with the rest of the family. Um Karim has not heard from him since.
When she and her children – two of them toddlers, the eldest 14 – reached the hilltop village of Al Faqiha, a local family offered them a single room to live in. They remain dependant on donations for food and basic supplies.
"We're missing a lot of things," she said. "We can manage, but this is not the life we had in Syria. We thank God. We just try to cope."
Despite offers by Lebanese authorities to place Syrian children in local schools, none of Um Karim's children are currently attending classes.
Stories like these, of stoicism and resilience in the face of hardship, loss and uncertainty, can be heard from Syrian families across the region. Latest assessments suggest there are now approximately 1.5 million Syrians in need of humanitarian assistance throughout the region. At present, 32,486 Syrians are receiving assistance in Lebanon, over half of them children and adolescents.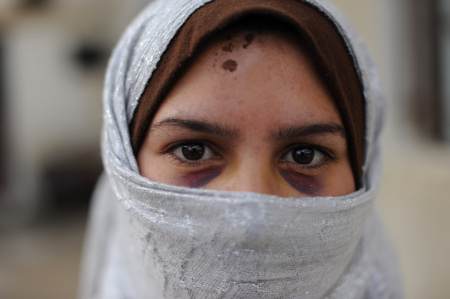 © UNICEF/NYHQ2012-0239/Brooks
Some, like 24-year-old Ameera, bear visible scars of their experiences. Her face is still badly bruised from when she was thrown out of a truck while escaping shellfire in her hometown.
Um Hashem, who is in her 60s, has been in Lebanon for more than a year and belongs to a support group for displaced Syrian families. Although she acknowledges life is difficult, her biggest concern is the fate of her son and other relatives who remain in Syria.
"We thank the Lebanese for receiving us and for giving us rice and oil and other things," she said. "But there's not a day that passes when I don't worry about what's happening back home."
UNICEF is currently mobilizing to meet the needs of growing refugee populations outside of Syria, with particular emphasis on ensuring Syrian children can attend school in their host countries, establishing child-friendly spaces, and providing children affected by the violence with psychosocial services.
But we require greater resources to give these children the support they need, and to restore a much-needed sense of normalcy to their lives. Please consider donating today.
Adapted from text by Simon Ingram.
In the News
[The Toronto Star] Syria's refugee children cope with trauma of war
[CBC] UNICEF struggles to help Syrian child refugees in Lebanon
[Toronto Star] Syria: Aid agency makes urgent plea for help for families fleeing violence
[CBC] Canada open to expanding Syrian humanitarian aid
More like this
On the Ground in the Za'atari Refugee Camp
Syria's Refugee Children Cope with Trauma of War
A Personal Reflection on the Crisis in Syria
Syrian Volunteers Rise to the Occasion
Share
Categories:
Geographic Regions: