Libya In Transition: Ensuring the Rights of Children and Women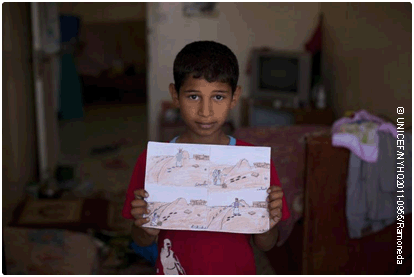 Though there is great hope for Libya's future, the current circumstances provide numerous challenges to child survival and well-being:
An abundance of weapons remain in the hands of civilians
Many schools were destroyed, and remaining classrooms are overcrowded or lack teachers or supplies.
Most of the children among the 85,000 displaced people living in camps remain out of school.
Many children suffer post-traumatic stress from witnessing violence and the loss of loved ones.
Children were involved in the fighting, and some continue to be associated with armed militias, often carrying weapons.
Despite these hurdles, UNICEF has been able to achieve significant results to help children survive the conflict and transition. We have been able to provide safe water to 500,000 children and families across the country, supply vaccines and emergency health kits at the onset of conflict, establish psychosocial supports for children and implement mine risk education programs. We have also been working closely with the Ministry of Education to get kids back to school and restore the education system so all children can receive a quality education.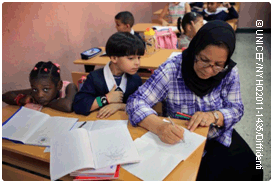 UNICEF has ambitious plans here for the coming year. We will work to rebuild and rehabilitate schools, improve teacher training, help the Ministry update learning standards and curriculum, and improve school-based psycho-social assistance. We will work with the government to reform laws and policies protecting children. We will also raise the profile of child rights in Libya, develop a national curriculum and training program for social workers, and closely monitor grave child rights violations.
Though the pace of re-establishing public order and restoring services is slow, UNICEF is proud to be on the ground here, assisting with the rebuilding so that no child, no matter how challenging the circumstances, is left behind in the process.
Learn More
Categories:
Geographic Regions: