Local Crises, Local Solutions
As the food crisis in the Sahel region deepens, international humanitarian organizations like UNICEF are turning to local businesses to provide the hardest-hit with essential supplies. Today, all of Niger's ready-to-use therapeutic food (RUTF) is produced at a local factory—rather than being shipped in from thousands of miles away. Now, instead of waiting weeks or even months, children at risk of malnutrition can receive life-saving supplies like Plumpy'nut when they need it most.
By Geoffrey York in The Globe and Mail
"In the classic imagery of an African hunger crisis, a wave of airplanes and ships arrives with emergency shipments of food from wealthy foreign donors, often thousands of kilometres away. But the image could soon be relegated to history. For the first time, a local factory in the heart of West Africa's drought region is producing all of the emergency food needed by malnourished children in its own country. It's part of a dramatic shift in strategy by the world's biggest relief agencies as they search for local solutions to humanitarian crises…" Read more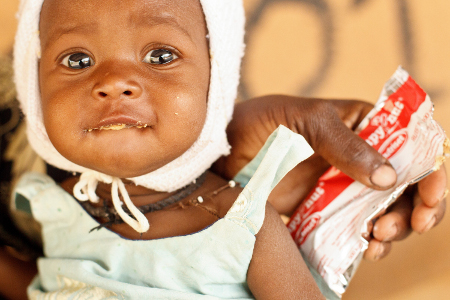 Plumpy'nut is UNICEF's first line of defense in a food crisis. Three packets a day of this peanut-based therapeutic food will help a malnourished child gain up to two pounds in a single week. Provide a child with Plumpy'nut today.
In the News
[Globe and Mail] Use of local suppliers could mark a turning point in feeding Africa's hungry
Survival Gifts
Boost a child's chance of survival with this therapeutic, peanut-based food. Three packets a day will help a malnourished child gain up to two pounds in a single week. Contains: 21 Packets.
Geographic Regions: