Maternal and Neonatal Tetanus Wiped Out in China
China has joined the ranks of 161 countries free of maternal and neonatal tetanus, one of the world's leading causes of preventable child deaths.
"With this announcement, a major step toward the global goal of MNT elimination has been taken," said Gillian Mellsop, UNICEF Representative for China.
Tetanus is a painful disease causing muscle stiffness and spasms, and can often be fatal. In newborns and mothers, it is generally the result of unsanitary delivery conditions.
MNT is easily prevented through hygienic childbirth or maternal vaccination. China's success in eliminating the disease is largely due to a jump in its hospital delivery rate, especially in remote rural areas.
"UNICEF has been working with the Ministry of Health for more than thirty years now on improving maternal and child health." said Dr Robert Scherpbier, UNICEF Chief of Health and Nutrition.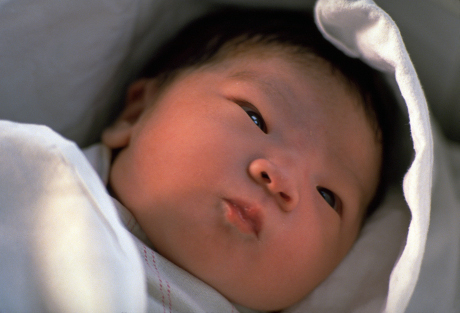 A baby in the maternity ward at a UNICEF-assisted hospital. © UNICEF/NYHQ1993-0405/LeMoyne
In 1999, UNICEF and the Ministry of Health launched the safe motherhood initiative in 40 of the poorest counties in China to encourage women to give birth in hospital.
The program involved community health education and hospital subsidies, as well as providing childbirth kits to health centres, and training rural health workers and midwives.
UNICEF's safe motherhood program yielded such positive results for both mothers and newborns that it was soon extended across the country by the Chinese Government.
Today, China's hospital delivery rate is above 96 percent – and tetanus is nowhere to be found!
We believe no child should die of a preventable cause. Thanks to generous donors like you, we are one step closer to wiping out this leading killer of children once and for all.
Survival Gifts
Ensure babies get the best start in life by helping mothers protect them before they are born. Mothers receive HIV testing and tetanus vaccines, helping protect their child from devastating diseases that can be contracted during birth. Contains: 23 HIV Test Kits, 23 Tetanus Vaccines.
Categories:
Geographic Regions: