Meet three incredible survivors of Cyclone Pam
When Cyclone Pam hit Vanuatu, we saw the destructive force of crashing waves and gale force winds. We saw staggering numbers like 82,000 children affected across 22 islands.
But on the ground, our team could only see the faces of survivors. Children and families who were bravely working to put their lives back together with help from UNICEF supporters around the world.
Here are a few faces we'll always remember, touched by your compassion and generosity .
Meet Liza and baby Jeremiah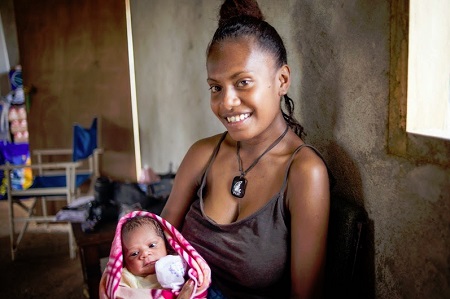 Liza was 8 months pregnant when she started to experience contractions during Cyclone Pam. After 48 hours of labour, she gave birth to a baby boy named Jeremiah – only to learn that their struggles were just beginning.
Jeremiah lived the first few days of his life in dire conditions and without clean water, leaving Liza to wonder how she would properly care for her baby. Our team worked quickly to support the government to bring clean water and hygiene supplies to 7,000 people including Liza and Jeremiah. For baby Jeremiah, this means a better, healthier start to life.
"I was so relieved when they brought us water. I will use it to drink," said Liza, which helps her to continue breastfeeding young Jeremiah and keep him nourished. "I will also be able to wash my baby in clean water. I am so thankful, because without this supply, we would have had no water at all."
Meet Nathan and his mom Touliu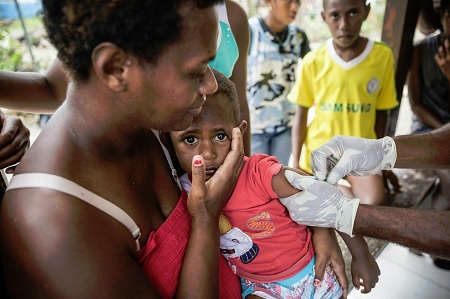 Nathan, 4, was a brave little boy when he received his life-saving measles vaccine injection. After a few tears, he quickly returned to his curious and social self. Nathan might not have realized the importance of his vaccine, but his mother Touliu did – knowing that children are especially vulnerable to diseases during an emergency.
Touliu was pensive when she recalled the storm. "Our home is right on the water in the entrance to Port Vila Harbour. We were worried about the strength of our home so we moved our children to this small health clinic. They sheltered here with five other families and my husband and I stayed at the house. It was the biggest storm I've ever been in. The children were very scared and my youngest [Nathan] is now frightened of the wind and dark."
Just like Touliu will be there for Nathan in the dark, we will be there for Nathan during these dark times. To minimize risks to children, UNICEF quickly supported the Government to immunize and protect over 17,000 children just like him.
Meet Damasen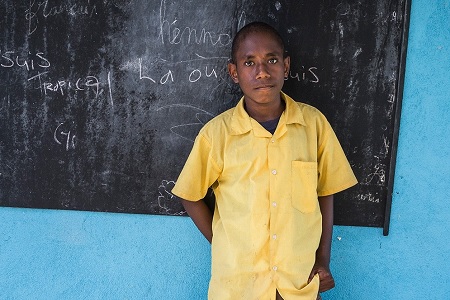 Damasen, 11, had his life turned upside down by Cyclone Pam. "We had nowhere to sleep, nowhere to cook," he says. "I came to see the school…there was no school and I felt no good."
After a disturbing event like Cyclone Pam it's important to get children back to learning and playing as soon as possible to help them to psychologically recover. Unfortunately, many of the schools in Vanuatu were heavily damaged and will take months to rebuild. Fortunately, with UNICEF support and supplies (from tents to Schools-in-a-Box to backpacks), pupils like Damasen are now back in class.
Now Damasen has a chance to start playing with his friends again and to start putting the events of Cyclone Pam behind him. We hope to give that opportunity to 10,000 other children very soon.
Want to help children like Jeremiah, Nathan and Damasen? Donate to our Emergency Fund and raise awareness by sharing this blog post.
Categories:
Geographic Regions: