Mobile Phone Technology Helps Children Map the Change They Need
Your house, your street, your neighbourhood—all undocumented. They exist only in the minds of your family, your neighbours and the occasional visitor. To the rest of the world, and to the officials that make decisions on vital services and programs that affect your very survival, your neighbourhood is virtually unknown.
How would you feel?
Invisible? Forgotten? Voiceless?
It's hard to imagine, in a time of rapid globalization, that this could be possible. Yet in the eastern Kolkata shantytown of Rishi Aurobindo Colony in India, until recently this was very much the case. For 13-year-old Salim Sheik and his friends, not having a map of their community made advocating for the needs of the 9,000 people who live there almost impossible.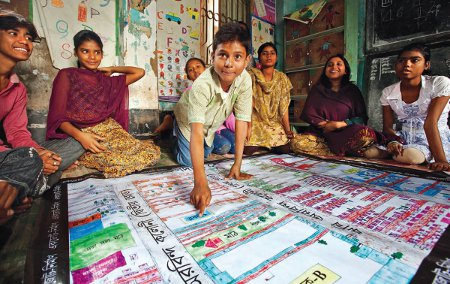 © UNICEF India/2011/Crouch
Sheikh, 13, shows off a hand-drawn map of his neighbourhood in Kolkata, India.
So with the generous support of UNICEF donors and access to some cutting-edge technology, Salim and his friends set about making their own map. Read more...
Innovation Is:
The cultivation, identification and harnessing of great ideas. UNICEF does just that. We take the best of the best, nurture their development, and transform them into life-saving solutions that benefit the world's most vulnerable children in the world' most remote and hard-to-reach places.
More in this Blog Series
Texting the Way to Better Child Health
A Sustainable Solution in Mogadishu
Categories:
Geographic Regions: