No Child Too Far: Interview with Chris Tidey
This backpack has travelled 98,114 km to save children's lives.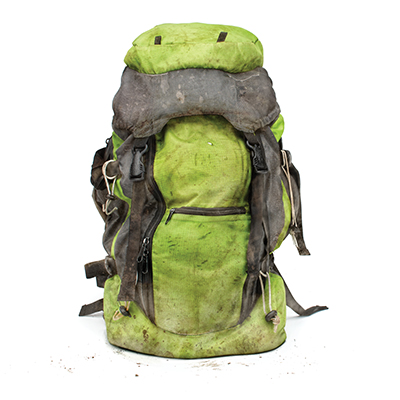 It belongs to Chris Tidey.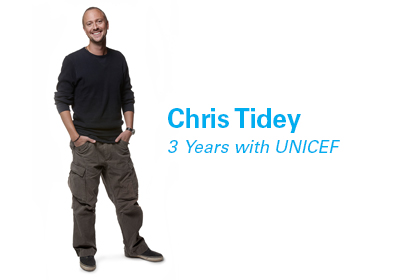 Chris is a UNICEF Communications Specialist. He travels to emergencies to help get the word out about what's needed most to save children's lives.
We asked Chris to tell us more about the backpack that he carries, and that sustains him, through these difficult journeys, and what they've seen and done together. Here's what he had to say.
What countries has this backpack visited?
I bought this backpack in June 2011, thinking it would hold up under the wear and tear of travel for UNICEF over the course of three to four years. It hasn't even been two years and it's showing the wear and tear of its travels.
Last June it went with me to Benghazi, Libya during the civil unrest, then to Malta and Tunisia. After that it journeyed to the world's largest refugee camp in Dadaab, Kenya in August, 2011, then on to Somalia in the same month. It travelled to Pakistan during the monsoon season (October, 2011). it's also been twice to Niger and once to Chad for the Sahel nutrition crisis in 2012.
What is the most difficult terrain, climate or physical situation that this backpack has survived?
The refugee camp at Dadaab, Kenya. It was the peak of the food security crisis in the Horn of Africa, with Somalia particularly hard hit. Somalis were crossing into Kenya at a rate of approximately 1,000 per day in search of food, water and medical treatment, having trekked for tens or even hundreds of kilometres through the parched dessert. The conditions were extreme, with daytime temperatures approaching 40 degrees Celsius, no rains and more than enough sand. The most difficult aspect for me was hearing the stories of families who had lost loved ones on the journey from Somalia.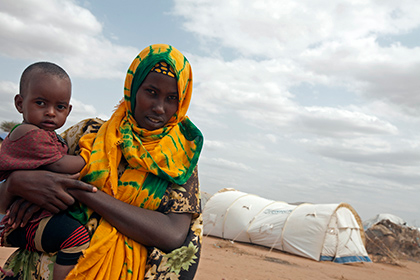 Somali refugees in the Dadaab Camp, Kenya.
What is the "dirtiest" your backpack has ever been?
I'm not sure my pack has been clean since the day I bought it! On each journey, it has inherited another level of dust and grime, and absorbed various aromas made all the more pungent by generally hot climates. It has probably never been as dirty, however, as when I carelessly dropped it in a stew of rain water, mud and debris left from the monsoon floods in Pakistan's Sindh Province.
What is the most moving event your backpack has been witness to?
This would have to be meeting three-year-old Aden and his father Abdile at a hospital in the Dadaab camps where Aden was being treated for severe acute malnutrition in August 2011. Abdile and Aden had walked for weeks to Dadaab from their native Somalia along with Aden's mother, grandmother and three siblings. Aden's mother died tragically on the journey and he arrived to Dadaab near death himself. What moved me most was seeing Abdile by his son's bedside in the hospital ward every day for more than three weeks until Aden was discharged. He was the only father in a ward full of children and their mothers. Since then, I have been to countless hospital wards where children were being treated for severe acute malnutrition and Abdile remains the only father I have ever seen present.
How much further will this backpack go before it outlives its usefulness?
It will go as far as its threads can bear. I have a sentimental attachment to it, given everything we have been through together. It is willing to go with me wherever UNICEF is needed and that is a special friend indeed.
Why UNICEF? Why children? Why has your backpack decided to do what it does?
UNICEF saves children's lives. With that in mind, I can't imagine me or my pack doing anything else.
You too can save children's lives: 1 email = 1 vaccine = a child's life.
Read another interview with Chris.
Categories:
Geographic Regions: