Parent Corner: Talking to your Kids about Disasters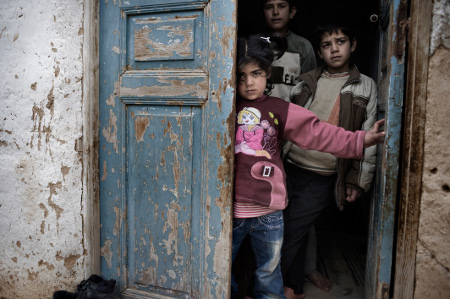 © UNICEF/NYHQ2012-0218/Alessio Romenzi Syrian children affected by the growing conflict between rebel and government forces stand in a doorway. How do we explain crises like the conflict in Syria to our children?
A few weeks ago, while reading a book about the famous soccer player Pele, with my two young boys, they comment how sad it was that young Pele's first soccer ball was just a sock stuffed with paper, and that his parents couldn't afford a real soccer ball. There are many who have much less than that, I reply, many children in the world who don't even get time to play, because they're helping their parents find food, carry water, care for their siblings, or even work so their family members have enough to survive. They look at me in stunned silence. I could see the wheels turning in their wee brains. Then, slowly, they turn back to the book and begin discussing the intricacies of Pele's famous bicycle kick.
Did I take it too far? Hard to say. These brief moments will become more complicated conversations as they get older. I hope I can strike the right balance between exposing them to challenging global issues and maintaining optimism, hope and above all a belief that they can and should be part of the solution.
Figuring out what our kids are ready to grapple with, and how to handle it if they are inadvertently exposed to something awful in the news, is a constant struggle for parents. In a 24/7 news cycle, it's almost impossible to prevent them catching something on the radio or the front page of the newspaper that is more painful or frightening than their tender souls should have to face.
Case in point: last week I woke up to the radio reporting the horrific massacre in Syria, which included many children. I lunged across the room to turn off the radio as my five year old came in the room. What was on the radio, mama? He asks. Just a sad story. Nothing important, sweetie, I say.
The thing is, it's very important indeed. As we watch events unfold in Syria, and pray that world leaders can stop further loss of life, particularly of innocent children, I wonder at what point I stop sheltering and start helping them digest this kind of tragedy, and turn to hope and action over despair.
So I turn to UNICEF's website for guidance.
UNICEF Canada's When Disaster Strikes: Elementary Guide has, on page five, a great one-pager on how to talk to your children about disasters – and when not to.
I found it quite helpful. For example, it suggests avoiding disturbing news coverage with children under 10, since they sometimes confuse these events with their own personal security. It also provides tips on how to start the conversation, make sure they feel safe, and help them take constructive action.
This document is part of the Global Classroom project, helping teachers bring humanitarian issues into the classroom and link them to the curriculum. There are other resources in it that parents could easily adapt to using at home with their children. They can also be shared with your child's classroom teacher or your school's parent council.
I'm thankful to have at the ready something that will help my family navigate the next disaster, which, we can only hope, won't be upon us for a very long time.
If you would like to have suggestions or would like to contribute to Parent Corner, please email us at emcnally@unicef.ca.
More in this Blog Series
One Mother's Reflections on the World of Breastfeeding
Geographic Regions: