Picture Kindness
By Alison Kramer
Guest author, Nummies.com
I have a picture on my office wall that says:
"Kindness in words creates confidence. Kindness in thinking creates profoundness. Kindness in giving creates love."
- Lao Tzu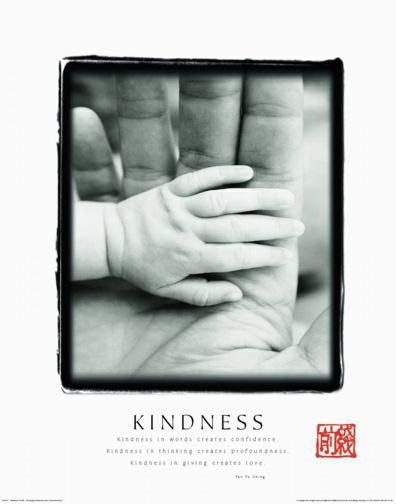 I look at it every day.
I love the idea of kindness as the start of all these powerful things.
I keep it on my wall, so I remember to stop and ask myself if what I am doing right at that moment started in kindness.
This time of year, the last part about kindness in giving is especially on my mind. I love giving gifts, just for fun or to show someone I am thinking of them. To celebrate a special day or to say thank-you.
I try not to get too caught up in checking people off my list and give things just to give them. I start by asking myself, "What is the kindest thing I could give this person?"
So, sometimes that means money (for my nephew reading this), or the spa gift certificate, or dinner coupon to the busy women in my life. Sometimes it means the toy the kids have been saving up for, so they can save another day. Sometimes it's the un-buyable, the thing I know someone has always wanted. Or the one they didn't know could be.
But my very favourite gifts are the ones that pay this kindness forward, which is why I love giving UNICEF Survival Gifts. Last year (and this year too) when I got to my friend Sharon on my list, I knew exactly what to give her. Sharon is a talented writer, a mother, and one of my very favorite people. I chose the Pencils for a School for her, which puts 1,000 pencils in the hands of children who wouldn't otherwise have them. Her gift is going to help those children find their voices. I knew she would appreciate my way of saying thank-you for being such a great friend and special person to me. And I was right, she loved it.
I chose UNICEF because they have gifts at different price points and so many choices, so you can match the gift perfectly in kindness and love to the person on your list. This year, my gifts will give children access to health care, education and play, including a Birth Registration package (which helps protect 27 children from illegal trafficking and other abuses), Storybooks, and a Soccer ball and Pump. My best friend is Sending a Child to School for a Year (but he doesn't know yet, so shhhh don't tell him).
How would your gift giving change if you started with kindness?
How would your day change?
How would the world change?
Survival Gifts

Pencils for a School

Storybooks
Categories:
Geographic Regions: