Pink Shirt Day: Support anti-bullying and wear pink today
Guest author Dr. Wendy Craig is Scientific Co-Director of PREVNet, Canada's authority on research and resources for bullying prevention. of which UNICEF Canada is a partner.
As a parent I thought dealing with the emotional rollercoaster of toddlerhood was challenging. I was wrong. As a parent of a just-turned-thirteen year old, the new source of discussion (I prefer that word rather than conflict) is time spent on screens!
Bullying can come in many forms and shapes. As a researcher, I have spent many years studying what children and youth do online and how it influences their development, and identifying the factors that increase the risk for being victimized or bullied online. But what I have discovered is that being an expert in a topic area does not always translate into managing the online issue with my child as my best self. However, self-awareness combined with research knowledge does enable course correction and implementing evidence-based parenting practices with a greater degree of competence. So here is my advice based on experience and the research.
Technology is here to stay and it is integral to youth's social development. Our job as parents is to facilitate our children to learn positive ways of interacting both on and offline, and to keep them safe from online or offline bullying. Parents spend significant time coaching and teaching social skills for face-to-face social interactions, and yes, sometimes it takes ten thousand trials for them to learn. We need to invest the same amount of time teaching them the skills for successful, healthy online interactions. The process is the same. When we introduce screen time or electronic devices, parents can monitor the online interactions, and provide feedback on what went well or how it could be done differently. In doing so, we need to acknowledge and provide positive reinforcement for when things were done well. We also need to identify when something was not appropriate and provide suggestions about how to do it differently next time, or how to repair a relationship if damaged. As the child or youth gains the skills, we relax in our monitoring, indicating to them that we trust them. The bottom line is that while we may not have the technical skills to understand or work all the apps they use, we can coach, monitor, and supervise how they behave while using those apps - and they need that support.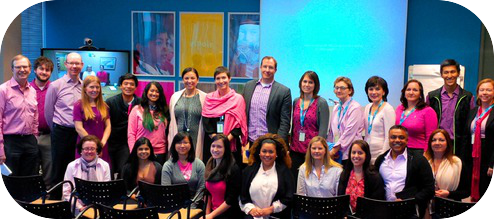 UNICEF Canada staff wear pink shirts to say 'no' to bullying on #PinkShirtDay
Unplug for healthier family time
As parents we also need to set boundaries for our children. It is okay to limit the time online, just as you would limit the amount of time that they may spend hanging out with friends. In our household, we have screen-free times. When I come home from work, I plug in my phone, and I do not use it again until after my child has gone to bed. I am role modelling what I expect of her. I am also sending the message about how I want to spend our time together during dinner preparations, at dinner, and after dinner. School work is the only reason, Monday to Friday, which she is on screen after six o'clock. Electronic devices also are not permitted upstairs at any time. These are the rules in our house and they work for us, for this age. In your families, you need to define what reasonable boundaries are and what will work for you. But whatever they are, you as the parent get to set down boundaries and you need to role model and respect those boundaries yourself.
Ensuring positive behaviour and supporting our children online does not involve new skills, it involves parenting them to be safe in a new medium.
Editorial Note: Children have the right to be protected from physical and mental harm, and the right to live free from any form of discrimination. Pink Shirt Day (or Pink Day) highlights the right of children in Canada to live free from bullying, which UNICEF Canada supports. UNICEF's Innocenti Report Card found that Canada's rate of bullying ranked 21 out of 29 countries, slightly higher than the average among industrialized countries. We can do better for Canada's children. Learning safe online behaviours is critical for children and youth in today's technological world to avoid becoming party to cyber-bullying, and to fully enjoy their rights to safety and healthy development. Wear pink on February 24 to show your support against bullying.
Categories:
Geographic Regions: