Reaching the Hardest to Reach
In remote communities around the world, networks of UNICEF-sponsored health extension workers are bridging the gap in rural healthcare service.
UNICEF supports these courageous individuals through training and the provision of medicines and supplies.
Equipping members of the community to provide basic healthcare is a sustainable, long term strategy that benefits and empowers communities.
It also represents an effective means to combat preventable and treatable illnesses like malaria, pneumonia, cholera and malnutrition in hard-to-reach areas.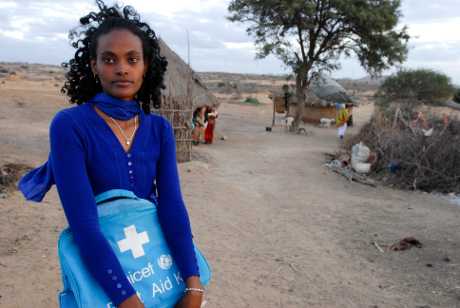 © UNICEF/NYHQ2011-1333/Getachew
Kalkidan Yimam, a health extension worker in Ethiopia, holds a UNICEF First Aid Kit.
Health extension workers can provide basic diagnoses, prescribe medication and administer vaccines.
They also play an educational role – informing people of the importance of practices like hand-washing to prevent disease, the use of bed nets to avoid malaria, and the importance of exclusive breastfeeding during the first six months of life.
In the Kunene Region of Namibia, much of the population lives in geographically remote areas. Less than one third of the population has access to health facilities.
With support from UNICEF, the Government of Namibia has deployed health extension workers to the region in a push to bridge this service gap.
"This is the most cost-effective way through which we can avert many young children and women from dying of preventable causes everywhere in Namibia," said UNICEF Representative in Namibia Micaela Marques De Sousa.
The program perfectly embodies the spirit of UNICEF's work: no child is too far. We beleive that no child should die from a preventable cause – and nowhere is too far to go to ensure a child survives.
Survival Gifts
First Aid Kit
Put emergency response on the move. When children need immediate aid, this all-essential kit lets mobile health care workers arrive equipped to help and to heal. Contains: 1 First Aid Kit. ($32)
Vaccine Pack
With this gift, you will come between children and deadly diseases, ensuring more children have a chance to grow up. A critical pack of three vaccines. Contains: 73 Polio Vaccines, 73 Tetanus Vaccines, 83 Measles Vaccines. ($42)
Categories:
Geographic Regions: