Refugees in Slovenia: new hope for refugee children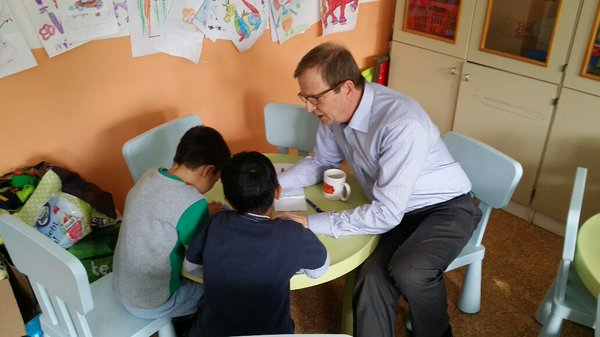 "It was a totally different reality, just one hour from here."
Tomaz Bergoc, the head of UNICEF Slovenia, looked at me from across the table as we sat in an outdoor café in the beautiful old city of Ljubljana, Slovenia.
"Usually, when you work with refugees who are fleeing with nothing, you're far away and you can decompress on the trip home. But not here. It was surreal – you'd spend time helping these desperate people at the border, and an hour later you'd be at home watching TV. There were so many people – for every family you were able to help with warm clothes, soap, a bit of food, you knew 10 families more needed some help too."
That was in the early days of the migrant and refugee crisis as the people fleeing the horrors of war and violence came up through the countries of former Yugoslavia, towards Germany, looking for safety and a chance at a better life. Many Slovenians went to the border to do what they could to help. UNICEF was there too. As numbers increased, we made a Child Friendly Space in a big tent. It had colourful walls and there were toys where children could play and their mothers could rest and breastfeed their babies with some privacy. It gave a moment of humanity on their arduous and inhumane journey, and everyone said that having a place where children could laugh and play made this the best of their border crossings too.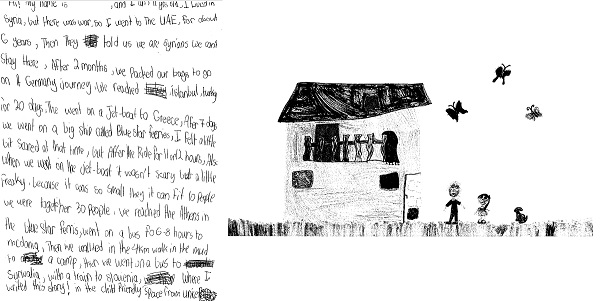 Read a letter written by a girl during her passage through Slovenia.
The border has closed now, but refugee families still here in Slovenia are in limbo. There's an asylum house in Ljubljana but it became overcrowded, so we opened one for families with children outside the city. Tomaz took me there.
It is a tranquil place. Slovenia is beautiful. Birds sing in the pine trees and daffodils and forsythia are in bloom. It reminded me of the children's camp where I had my summer job at university. Just like that camp, there are recreation programs for the kids – making friendship bracelets, playing tag, doing some of the puzzles we brought with us. On the surface it looks idyllic, but our team there was worried. "These people have suffered so much trauma," said Janja, the team leader. "They need counseling help, social work support, there's so much more we need to do."
I overheard a young woman speaking English and went to her. "I study English at university in Kabul," she said. "But Taliban, no good. We leave Afghanistan. Go Iran, Iraq, Turkey, Greece, Macedonia, here, and into Austria. In Austria we are deported here again." She shrugged and gave a sad smile. "No work here. A small country. No work."
Can you imagine that? Through all those countries, her perilous journey to escape from those who would never have allowed her to go to school in the first place. What strength and resolve to make that trip – and clearly she did not believe she had finished her journey yet. Whatever country she and all these other people are finally able to settle in will be fortunate to have people with such courage and resolve.
Back in Ljubljana, Tomaz described how the team works with the Slovenian government to find more ways to help these people. "We can do more, I know that. We should do more. We will do more."
Suddenly, he remembered something from a few months before. "I was talking with a Syrian man outside our Child Friendly Space down by the border. He said to me, 'Slovenia has been the kindest country to us all along this journey. So 10 years from now, once we have settled somewhere and have jobs, we will come back here as tourists, show our children where we were helped and spend money to say thanks.'"
Tomaz smiled. "I think he is right. Just look at the strength and courage these people have shown to get their families to safety. Yes, I'm sure he is right."
Related:
Press release: Government of Slovenia and UNICEF strengthen humanitarian support for refugee and migrant children on the move
Categories:
Geographic Regions: