Right in Principle, Right in Practice - is Canada doing enough for our children?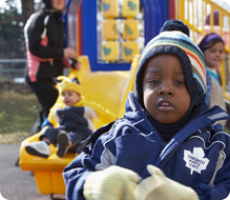 For one thing, there will be markedly fewer children at our doors in the coming years. An appropriate Halloween costume for the rising generation might be "The Incredible Shrinking Child". The proportion of Canada's population under age 18 is projected to decline from one in four today to one in five by 2021. After 2015, the number of people over 65 retiring from the workplace will be greater than the number of people under 15 preparing to enter the workforce. [i] Canada's economic and social well-being will depend on greater contributions from those who are children now. While the focus on aging tends to shift attention and resources from children to seniors, it's just as strategically important to develop the full potential of every child. A new report released November 1 by the Canadian Coalition for the Rights of Children shows that although some progress is being made, too many young people in Canada continue to face unnecessary obstacles to safe and healthy development. The report, "Right in Principle, Right in Practice", [http://www.rightsofchildren.ca] is based on research and collaboration with organizations that support young people across the country, including UNICEF Canada. It's a must-read for Canadians who are concerned about the Canada we are creating for our children.
Another good costume choice for Trick-or-Treaters might be "The Invisible Child", the progeny of the H.G. Wells classic. Children are fading from the collective social conscience and falling down the list of public policy priorities in Canada. Children are almost invisible in the way decisions are made by governments on issues that significantly affect their lives. The result is that in many important dimensions of child well-being, Canada lags behind other industrialized nations. We rank in the bottom third of countries in the rate of infant mortality, child injury (the leading cause of death in older children) and family income poverty. The income gap has widened more in Canada than in almost every other industrialized country over the past two decades. Widening inequity in any society is not just bad for the children at the bottom; it pulls down the average level of well-being for all children, in educational performance and other aspects of their lives. It's also a concern that a full quarter of Canada's children start kindergarten without the basic cognitive and social skills we expect children to have at that stage, such as the ability to hold a pencil. Most of those children are from middle-income families. The poverty of parental time with children and the lack of access to quality child care and other kinds of flexible family supports is affecting many middle income families; for low-income working families, poverty of time just compounds poverty of income.
Solutions outlined in the new report include making children visible in public policy. As governments cut budgets, where is the principle of "first call for children" that ensures children pay for cuts last, and least? Who has the clear mandate to make children a priority consideration, when there is no minister for children, no parliamentary committee for children, and no Children's Commissioner at the national level? The report proposes a number of reasonable measures to make children visible in the machinery of public policy, which affects so many areas of their lives, like the kind of work and pay their parents have, and whether the child care the majority of children are now using is of good quality, and if their homes and communities are safe and healthy.
As we approach National Child Day on November 20, Canada's official day to recognize our obligations to children in the Convention on the Rights of the Child, and then the twentieth anniversary of Canada's ratification of the Convention on the Rights of the Child on December 13, it's time for a discussion about how well Canada's children are faring. Every one of those Wonder Women, Batmen, witches and other creative souls who crossed my doorstep and yours has the right to the best childhood our society can provide, and we can do better.
Categories:
Geographic Regions: