See What I See: Young Syrian refugees use photography as an outlet
By Toby Fricker
A group of Syrian children sheltering at Za'atari refugee camp in Jordan are taking part in a three-month photography project designed to help them recover from their extreme stress.
Agnes Montanari, a French photographer, is teaching the children how to use disposable cameras. This is part of a three-month photography project managed by Save the Children in partnership with UNICEF. Montari demonstrates such techniques as framing, using light and storytelling.
"The whole point of the programme is for the children to tell about their life in the camp as a way for them to create memories," says Ms. Montanari. "This is life also, even if they are in a refugee camp. Their life here has to have a meaning."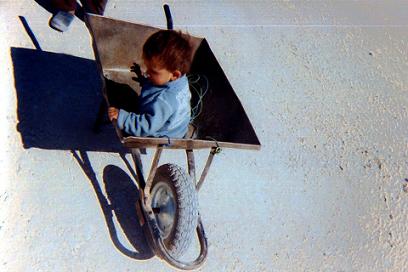 Creating memories
"I want to show others through my pictures the atmosphere in the camp and that it's very hard living here," says Amjad. "We suffered back home and came to the camp as refugees. Now we have to endure life here."
The children participating in the project are between 14 and 18 years old. They meet twice a week for lessons inside a pre-fabricated unit. In between classes, the group put to practice what they've learned, taking photos around the camp with a focus on a different theme each week.
Since the project began in February, Ms. Montanari has seen impressive progress in their photography skills. "Now they are starting to take pictures that are more creative, more balanced, more spontaneous, which is really interesting," she says, a smile on her face.
Recovering from conflict and displacement
The photography project is one component of UNICEF's wider psychosocial support strategy for working with children who have experienced extreme stress.
"What happens when your brain has been overloaded, you can really only see what is in front of you and what your immediate needs are," says UNICEF Child Protection Specialist Jane MacPhail. She leads training sessions in psychosocial understanding for teachers and child protection staff who work with children at the Za'atari camp.
"This [photography project] retrains the brain to focus on something and to experience the joy of seeing something different. The kids have become much more focused and more excited about the small things in life," she says. Ultimately, this new focus helps the children to reconnect with their families, which, in turn, benefits everyone, Ms. MacPhail explains.

Opening up
Amjad and his family are clearly benefiting from the programme through better interaction in their temporary home. "My family are happy because they have seen an improvement in my personality," he says. "I am more open with people, and I talk more. We laugh about the pictures and what happens inside the classroom," he adds.
While the photography project provides some focus during Amjad's time in Za'atari, thoughts of his future back home are never far away. "I hope that we will go back to Syria and everything will go back to normal and everything that we have lost we will get back in the near future," he says.
The young photographers' work was recently displayed at a gallery in central Amman. Under the title 'Tomorrow's memories: Life in Za'atari camp through the eyes of children', the three-day exhibition attracted hundreds of visitors, including ambassadors, members of the public and tourists. There are now plans to take the group's creative work further afield and on to the international stage.
You can support projects like these by making a donation.
Categories:
Geographic Regions: