South Sudanese Women Take the Lead in Local Peace Building
"Peace starts within you. If you have peace in your heart you can educate others," said Jennifer Kujang Abe, President of the Central Equatoria Women's Union, during a discussion about the role of women in local conflict resolution.
In South Sudan more than two decades of war and inter-communal fighting have torn apart families and communities, causing thousands of people to flee their homes for neighbouring countries.
Since South Sudan's declaration of independence in June, 2011, almost 400,000 displaced persons have flooded into the country. This movement and on-going economic and social challenges has placed further strain on communities attempting to rebuild fragile relationships.
In Munuki, on the outskirts of Juba, 15 volunteer women are meeting at the offices of the Nonviolent Peaceforce (NP) to discuss community issues and ways to address them. Together they form a Women Peacekeeping Team (WPT).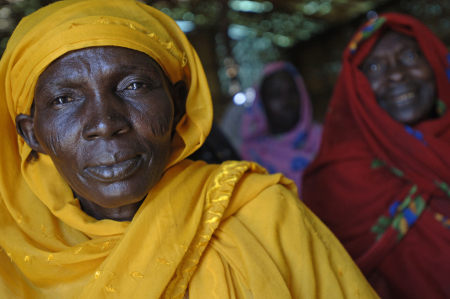 © UNICEF/NYHQ2006-2163/Cranston
The Munuki WPT is a varied group - some are educated and skilled women who have held positions in county or state government, while others are illiterate. Many were involved in peace movements during the conflict, both inside and out of the country, but now feel marginalized. They all agree on the need for women to be part of the rebuilding process.
"The men were scattered, but we came together," said Jennifer Kujang, who recently returned from Uganda. "My skills didn't just come from the air. I worked with women throughout my exile and we can stand alone like men."
"Women often have information on the ground," said Tiffany Easthom, Country Director of NP. "We have seen that large-scale conflict often builds from a small dispute. It's critical to use women's knowledge to allow them to protect themselves and their communities," she added.

In a country where 70 percent of children aged 6-17 years have never set foot in a classroom, and adult literacy stands at 27 percent, the women believe education and employment opportunities need to be prioritized along with community dialogue.

The women's training is part of UNICEF's broader approach to strengthen the protective environment for women and children, through capacity development of key actors within the social welfare, legal, and law enforcement systems at a community, state and national level.

In the last two years more than 275, 000 key actors in child protection have received information and education on how best to protect children.

"Being part of the team has provided me with a confidence and pride," said Mama Joy, a widow with 7 children. "I am able to be a role model for my children and grandchildren." She believes the younger generation needs to understand how to live together again for peace.

The active presence of these local women in conflict resolution is part of a broader peacekeeping effort in South Sudan to promote equal representation and women's leadership.
Adapted from text by Rebecca Fordham.
Categories:
Geographic Regions: