Step Back, Leap Forward
Every morning villagers from Mabala, a remote community in the western province of Bandundu, fetch fresh water from the pump at the local primary school.
Before this well was dug, schoolchildren here took a few hours of every day to travel to the traditional water source over a kilometre away. One simple, manually dug well has meant more time for their education, safe water for drinking and handwashing, and a dramatically reduced risk of waterborne illness for the three hundred families living in the village.
Currently in the DRC, less than three out of ten children have access to safe drinking water. UNICEF and community workers here decided to take a step back in order to take a huge leap forward:
Enter, manual well drilling.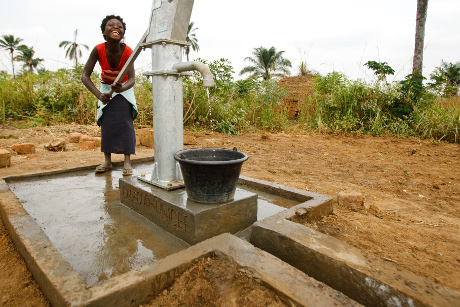 Schoolchildren in remote Mabala, DRC, no longer hike miles for unsafe water. © UNICEF/DRCA2011-00205/Asselin
Though the much more expensive mechanical drills get the job done faster, there are a number of barriers to using them effectively here: few drills means a lack of competition and very high cost, there is difficulty in acquiring spare parts, and inadequate roads and bridges make moving the equipment arduous.
The past two years have seen 40 manual water supply wells drilled in the western DRC, with an equal number still to come.
And the story doesn't end here.
UNICEF's program in the DRC will create a self-sustaining well-drilling industry, so that the region has the capacity and the skills to continue this work into the future.
With this program, schoolchildren in the village of Mabala could see their lives transform from hiking miles every week for unsafe water, to employing other villagers in a well-drilling business all their own.
Categories:
Geographic Regions: