Syrian Volunteers Rise to the Occasion
By Razan Rashidi
UNICEF Communication Officer
Damascus, 24 July, 2012: These have been really difficult times for everyone in Damascus. Thousands of people have had to leave their homes to seek refuge in safer areas, often in schools and mosques.
By the weekend, at least 15 schools in Damascus and 18 more in outlying areas were full of displaced families.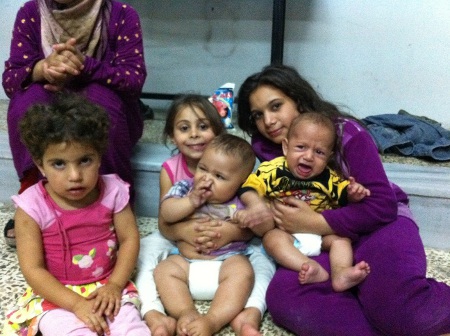 Volunteers from local communities and the Syrian Arab Red Crescent (SARC) are working day and night to provide assistance to this population in need. They've been doing an amazing job.
Ordinary people quickly formed rescue and relief teams in the hosting neighbourhoods. UNICEF and other International organizations are in turn working to support SARC and these local partners.
Young people are particularly involved. Some of them have braved the violence to go out looking for anyone needing a place to stay and taking them to the schools and mosques housing displaced people.
At one of these places I met Oum Mustafa. She told me that after her family fled their home on Wednesday, they spent the night in a public park. "The next day, some young people escorted us to a school," she told me. "I am so fortunate that my three girls and little baby boy are with me, and my sister in law's family as well."
Another woman sheltering in the school looked at her 9 year old daughter sleeping on a thin mattress on the floor. "I am glad she's asleep," she said. "You know, we haven't slept for the past three nights because the sound of shelling and helicopters was so loud it was as if they were in our house."
Some of the schools now sheltering IDPs are ones that have received UNICEF support in the past. A colleague visited one classroom where IDPs are now living and noticed the pink door and paintings on the walls – telltale signs that it was once part of the network of "Child Friendly" schools UNICEF has promoted in Syria over the past year.
Some people have taken displaced families into their own homes. One woman I know, Manal, who has two children of her own, has been hosting her extended family from Homs in her house for the past three months. The other night, they all had to relocate and took refuge in a school.
Such generosity is becoming harder to sustain. Many shops are closed, so it is difficult for local residents to buy enough food and other basics to meet their own needs, let alone those of their guests.
Conditions in the schools are not easy. In one school in Masaken Barzeh, around 600 people are using just seven small toilets. The new residents do their best to keep the school clean, but they need cleaning supplies and awareness-raising about the importance of good hygiene. UNICEF is helping by supplying hygiene kits that contain detergents, shampoos, sanitary napkins, soap, towels and other personal hygiene items.
Sometimes children themselves are stepping into the gap. I came across 14 year-old Naya. She has been relocated twice along with seven other family members and calls herself a "hygiene expert." Volunteers were so impressed with her knowledge that it was agreed that Naya would be the school's focal point for hygiene awareness. Naya promised to spend her free time going around telling other children how important it is to flush the toilet and to clean the bathroom every time they use it. "Younger kids listen to me, but I'm not sure about the grown-ups," Naya laughed.
Another problem is keeping the children occupied. It is too hot to run around in the yard and there is nothing to play with. UNICEF, through its local partners and SARC, is providing the schools with recreational kits and sports kits to help children cope.
An estimated 190,000 people including more than 145,000 vulnerable Syrian children have been reached with vital assistance to date, but much more remains to be done.
By December 2012, we estimate that we will need to respond to more than triple the number of initially targeted children.
UNICEF urgently requires $39 million to meet the emergency needs of a growing number of Syrian refugee children and young people. Please consider donating today.
In the News
[The Toronto Star] Syria's refugee children cope with trauma of war
[CBC] UNICEF struggles to help Syrian child refugees in Lebanon
[Toronto Star] Syria: Aid agency makes urgent plea for help for families fleeing violence
[CBC] Canada open to expanding Syrian humanitarian aid
More like this
On the Ground in the Za'atari Refugee Camp
Syria's Refugee Children Cope with Trauma of War
A Personal Reflection on the Crisis in Syria
Share
Categories:
Geographic Regions: