Take a Stand! It's World Day Against Child Labour
"I loved to go to school, but when my father died I couldn't pay the fees anymore. That's why I came here," says 15-year-old Niak, a front-line worker on one of Lupatapata territory's many diamond teams.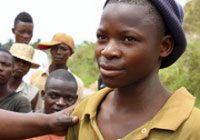 For the past year he has been washing gravel at the river from dawn to dusk.
He is one of many children working in the country's diamond industry, either digging, washing or selling.
©UNICEF 2012/DRC/Walther
"In September 2011 we had 900 students. Now it's March 2012 and only 767 are left. Probably this number will further decrease over the coming months," said Constantin Kadima Kashiygia, headmaster of a public primary school. "Many children have to take care of themselves. Those who do not drop out work in the morning and attend school in the afternoon, but they are too exhausted to concentrate and often fall asleep at class. It doesn't help that there is for most of them only one meal per day."
While digging is primarily the business of men and boys, girls and women sell food, water—and more.
"We do not have figures because nobody talks about it, but prostitution is a major problem. To survive, girls as young as 13 sell their bodies after nightfall," says teacher Honore Kabamba.
In provinces 'blessed' with diamond resources, this brutal cycle of exploitation and poverty has prevailed for decades. Yet, change is on the wind.
In 2007, UNICEF began to establish community-based protection networks for working children. "We have over 100 community volunteers whose task is to identify the most vulnerable children, to win their trust and eventually convince them and their parents to change [industry practices]," says Diane Ntumba Bitoli, a UNICEF Child Protection Officer. "It is a lengthy process, but it's bearing fruit. In the past, children as young as seven years were deployed as diggers. Now the hardest work is left to adolescents and men."
By training local volunteers on child protection principles, UNICEF has empowered communities to protect children from abuse. Between 2010 and 2012, the program helped enroll 2,866 children in school.
We believe that no child should be forced to sacrifice their schooling and endure long days of work just in order to get by. Because every child has the right to learn and play—and simply be a kid.
Adapted from text by Cornelia Walther.
Categories:
Geographic Regions: