The New Cost of Childhood
By Lisa Wolff
Director of Advocacy and Education, UNICEF Canada
The urgency of the financial crisis has meant that some countries are setting aside their long-term development goals – and with that, their children's prospects. Thirty million children already live in poverty in industrialized nations. That's in the world's most affluent countries, where 15 per cent of the 200 million children lived below the poverty line heading in to the financial crisis. Many more are newly threatened and risk being overlooked in the process of restructuring financial and economic systems.
Greek bail-outs, Spanish debt and euro-zone scrambling mean little to a 10-year-old, but the impact of public spending cuts and belt-tightening spells real hardship for poor children and families. No, it isn't the same as being poor in Africa, but no child deserves to live in unsafe housing, to go without nutritious meals, and to struggle and fail in school because of circumstances they have no choice in or control over. In the richest countries, this is not inevitable, and is therefore unacceptable.
It is hard to say how deep and sustained the current financial crisis might be, and whether we will give the next generation a healthier economy. It is, however, crystal clear that for poor children, the coming years are likely to include health problems, employment struggles and other manifestations of growing up without good development conditions.
UNICEF's Report Card 10: Measuring child poverty explores child poverty and deprivation in industrialized countries, comparing and ranking national performance. This international comparison shows that child poverty in our countries is not inevitable, but can be influenced by government action, and that some countries are doing much better than others at protecting their most vulnerable citizens.
Take Canada, Germany and Denmark, for example. All have similar levels of economic development and per capita income, yet only 7 percent of Danish children live below the poverty line, half of Canada's 14 percent. In Germany, 9 percent of children live below the poverty line. Overall, Canada's position is twenty-fourth out of thirty-five industrialized countries.
These figures are from 2009 – the latest comparative figures available – and reflect the outcome of successive governments' decisions in the years before the crisis. The three years of economic hardship since then does not bode well for the present or near future, as child poverty rates have been rising in affluent nations.
At the same time, we are seeing deep cuts in social spending across the European Union. Federal, provincial and territorial governments in Canada by and large have not introduced the same kind of cuts to child benefits and services that we're seeing in some industrialized nations, but most were already spending more than we do. No Canadian government at any level explicitly adopted the principle of protecting children in recent budget cuts. It is fairly axiomatic that you get the level of child poverty you pay for. As one of the most affluent of the rich countries, having weathered the financial crisis better than most, Canada can afford to shift priorities enough to safeguard and even improve its investments in children's well-being.
Governments across the industrialized world need to guide policies in a way that makes children a higher priority and safeguards the long-term futures of their children and their societies. To do so they must give much more importance to gathering and using data on child poverty and well-being, adopting a principle of first call for children on available resources, and setting targets to improve child well-being.
If politicians, policymakers and voters had a clearer priority for children it would become much harder to defend short-term policies at the expense of those who have no say in their futures.
Given the depth of the financial crisis, urgent action is clearly required to pull economies back from the brink. But UNICEF believes that it must not take place at the expense of jeopardizing children's present and future opportunities. Every measure that governments consider should be checked against its impact on children and families with children.
Industrialized countries have for generations stood tall in support of their most vulnerable citizens. Today we must rise to a new challenge.
This post draws upon an op-ed by Gordon Alexander originally published by The Huffington Post.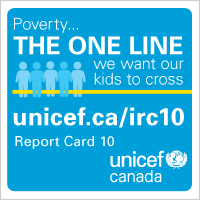 Categories:
Geographic Regions: