Tiny hopes for Syria amid the violence
By Alma Hassoun
DAMASCUS, 20 May 2013 – Five-day old Yaman took a long stretch inside an incubator at a charity hospital in Damascus, while his mother and sister were admiring him happily through the glass door of the unit.
Yaman has in many ways become one of Syria's smallest hopes amid vicious fighting that has damaged hospitals and taken thousands of lives. His mother remained nearby, ready to breastfeed her youngest child to ensure the best nutritional start to life.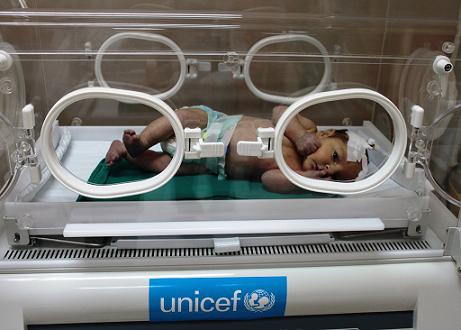 © UNICEF/Syria-2013/Alma Hassoun

Next to him was a tiny girl sleeping quietly. Both babies are expected to be fine, but were placed delicately in an incubator because of a small infection for Yaman and a respiratory problem for the girl.
But until last month, there were only four incubators in the hospital — far short of what was needed.
UNICEF has been providing NGOs throughout the country with incubators that can help save the lives of many infants like Yaman, with three machines for this hospital in Damascus, another two in Aleppo and one in Homs. A remaining 44, out of 50 purchased, will be distributed to private and public hospitals throughout Syria.
"The incubators came just on time," said Dr. Wisam Baraki, a neonatology specialist.
Before that, infants were sometimes placed on beds and oxygen was administered manually by parents because incubators were not available, a doctor explained.
"The incubator is life-saving medical equipment for babies born with difficulties especially in breathing," said Dr. Iman Bahnasi, UNICEF health specialist. "It is crucial especially at this time as there is a shortage in incubators resulting from damaging and looting many hospitals."
The protracted violence has continued to devastate health facilities in Syria. Out of 88 public hospitals, less than half are fully functioning, with some 27 destroyed and 21 only partially working. In addition, 10 per cent of the health centres in Syria are damaged according to the World Health Organization in December 2012.
UNICEF and partners are providing humanitarian assistance throughout the country including medical support for children and families. This year alone, 50 UNICEF supported mobile medical teams in 12 governorates and a fixed centre in Damascus, have reached over 60,700 children with medical check-ups.
To support UNICEF's work for babies like Yaman, please make a donation today.
Categories:
Geographic Regions: