Typhoon Hagupit: families find shelter as they brace for the storm
By Andy Brown, UNICEF's Regional Communication Specialist in East Asia and the Pacific
Yesterday I arrived in Manila, the Philippines, a day or two ahead of Typhoon Hagupit (known locally as Ruby). Looking out to sea there was no sign yet of the typhoon. There was even a narrow band of sunlight on the horizon. But everyone knew it was coming.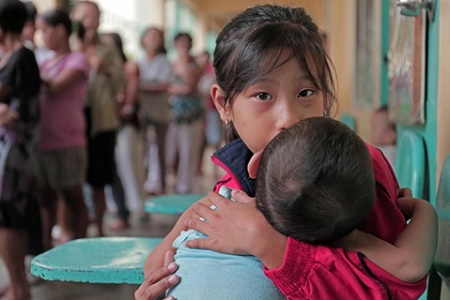 Carmela, 8, holds her brother Joshua as they wait for Typhoon Hagupit to pass. © UNICEF/UNI175840/Samson
The typhoon made landfall last night in Dolores, Eastern Samar, on the eastern edge of the Philippines. Although it has weakened from a Category five typhoon to a category three, it could still cause major devastation, particularly as it crosses areas still recovering from Typhoon Haiyan last year, or if it hits the densely populated capital Manila (now looking unlikely).
> Support UNICEF's General Emergency Fund
The storm is now moving very slowly, at just 15 km/hour, but the wind speed within the spiral of the typhoon is much faster, at around 205 km/hour. This is not good news – the slower the storm moves, the more time it has to wreck buildings and flood streets. There is also a risk of a storm surge as the typhoon churns up the sea, with waves that could reach up to four meters. Around 40 million people remain in the path of the storm.
Our greatest worry at UNICEF was that Typhoon Hagupit would hit Tacloban, the city affected the worst by Haiyan last year. People there are still rebuilding their lives and homes, with some still living in tent cities and flimsy bunkhouses. Fortunately for residents of Tacloban, the eye of the storm passed by to the north, but the city was still rocked by heavy winds and rain, causing a power outage, but no reported casualties.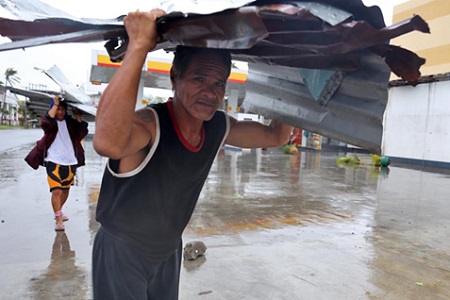 Men gather fallen iron sheets to start rebuilding homes on Sunday morning. © UNICEF Philippines/2014/MWarfa
I spoke on the phone to Marianna Zaichykova, UNICEF's emergency communication specialist in Tacloban: "It's been raining heavily since last night with very strong winds," she said. "It was impossible to go anywhere. We have no power and all the shops are closed. There's only one hotel in the whole town with electricity, so all the aid agencies are working there."
This morning Marianna ventured out to visit two nearby evacuation centres. "People are starting to move around very cautiously, but it's still rainy and windy," she said. "In the centres we visited, most of the men had left to look for food or guard their houses against looting, but the women and children were still there."
"The babies were fast asleep but children aged three to six had trouble sleeping and staying calm because of the trauma from Haiyan last year. Their parents were comforting them," Marianna continued. "But the older kids, aged around 10, were smiling and running around. 'The rain is gone, we want to go home,' they said, although their mothers were more cautious. 'We'll go home only when we can see the sun,' one woman told me."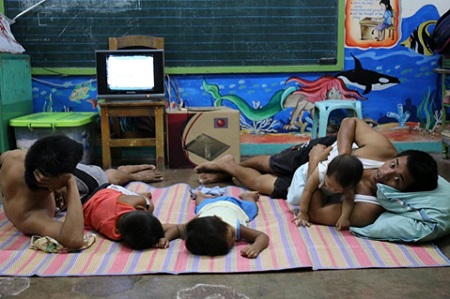 Around 1,000 people took shelter in Kapangian Elementary School, Tacloban. © UNICEF/UNI175845/Bacareza
Marianna said that the situation was much better than last year. "Definitely the lessons from Haiyan have been learned," she said. "Three days before the typhoon hit, people in coastal areas were already moving to evacuation centres and stocking up on food. The local government closed all businesses and declared a no parking zone in the city centre. This is because last year cars were flying around in the storm causing damage."
Inevitably, there has been some damage. "A couple of buildings that escaped Haiyan have been very badly damaged this time round," Marianna continued. "I think this is because of the different direction of the wind. But there have been no reported casualties so far in Tacloban, so we have been very lucky."
UNICEF's focus is now shifting to the towns of Dolores and Oras to the north of Tacloban. "We're unloading our relief supplies so that the government can transport them to Dolores," Marianna said. "We don't know what the situation is there yet. Mobile phone reception is down so we can't contact anyone. There's only one road to get there, which is 170 km long with several bridges. If even one bridge is destroyed, we may not be able to get through."
For Tacloban at least, it's clear that people have been spared the worst. In a few days, they'll be able to go back home and continue their interrupted task of recovering from Typhoon Haiyan. For much of the rest of the Philippines, however, people remain braced for the storm that is moving slowly, but relentlessly, westward.
Ways to help:
Stay informed by following UNICEF Canada and UNICEF Philippines on Twitter
Share this blog post via social media using the Twitter and Facebook buttons above.
Categories:
Geographic Regions: